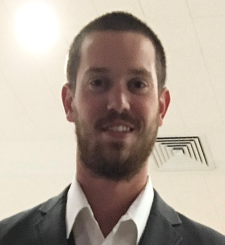 Andrew Gaston Rupard, 25, of Timmonsville, S.C., and formerly of Harmony, N.C., died on Monday, November 4, 2019.
Andrew was born in Iredell County, N.C. He graduated from North Irdell High School and N.C. State University with degrees in Agri Business and Livestock and Poultry Management. Andrew enjoyed farming and wood craft. He was employed with Southeastern Grain Company. Andrew was also a member of Mt. Vernon Baptist Church of Olin, N.C.
Surviving are his parents, Terry Cecil and Julie Harris Rupard; his sisters, Jennifer (Joe) Steele and Ashley (Micah) Privette; his brother, Matthew (Nichole) Rupard; his maternal grandmother, Doris Williams; his maternal grandfather, J.D. (Marie) Harris; his paternal grandmother, Louise Rupard; two nieces, Natalynn and Finley; several aunts, uncles, and cousins. He is also survived by his fiancé and the love of his life, Kristi Czubernat; his loving K9 companion and best friend, Angus; Kristi's parents, Denise and Ken Czubernat; Kristi's sisters, Kasey Czubernat and Ashley Strandberg; and her son, Trysten.
Andrew was preceded in death by his paternal grandfather, Gaston Cecil Rupard; and his step-grandfather, Gerald Williams.
In lieu of flowers, memorials may be made to Youth Ministry at Mt. Vernon Baptist Church in Olin, NC and or Gideon International.
Funeral services will be held on Sunday, November 10, 2019, at 4 p.m. at Mt. Vernon Baptist Church. Burial will follow at Mt. Vernon Cemetery. The family will receive friends from 3 until 4 p.m. on Sunday, November 10, 2019 at Mt. Vernon Baptist Church.
Family and friends are invited to sign the online guest book at www.troutmanfuneralhome.com
Troutman Funeral Home is serving the family.