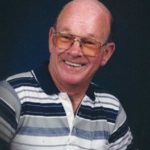 Charles Michael "Mickey" Benfield, 80, of Mooresville, N.C., passed away on Monday, December 16, 2019, at Gordon Hospice House of Statesville.
He was born on July 31, 1939, in Mooresville, N.C., to the late Offie and Hazel Starnes Benfield. Mr. Benfield was retired from construction and previously worked at Cavin-Cook Funeral Home. He was a member of Whitman Park Baptist Church in Mooresville. Mr. Benfield enjoyed golfing, softball, camping, and was a jokester. He loved his children and grandchildren and enjoyed spending time with his family.
In addition to his parents, he was preceded in death by a grandson, Brent Medlin; and brother, Joel Benfield.
He is survived by his wife of 36 years, Nancy Murray Benfield; children, Tammy B. Medlin, Crystal B. Little (Billy), and Mike Benfield (Nikki); stepsons, Dale Christie and Robert Christie; sisters, Phyliss Harrison, June Benfield, and Sissy Fries; grandchildren, Lacy Hoffman (Nick), Chase Medlin (Alaina), Taylor Little, Trent Little, Tanner Benfield, Drew Benfield, Carly Benfield, and Caden Benfield; step-grandchildren, Haley Christie, Abby Christie, Aaron Christie, Lucas Christie, and Lindsay Christie; one great-grandchild and seven step great-grandchildren.
The family will receive friends on Wednesday, December 18, from 6 to 8 p.m. at Cavin-Cook Funeral Home. Funeral services will be held at 2 p.m. on Thursday, December 19, at Cavin-Cook Funeral Home Chapel with Rev. John Stevenson officiating. The family will receive friends all other times at the home of Crystal and Billy.
Cavin-Cook Funeral Home & Crematory, Mooresville, is serving the Benfield family. Condolences may be made to the family at www.cavin-cook.com.