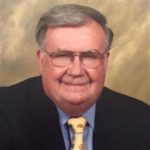 Mr. Cletis Wooten Sr., 81, passed away Saturday, December 21, 2019.
A visitation will be held Sunday, Dec. 29, from 3 to 5 p.m., at Nicholson Funeral Home.
A celebration of life service will be held Saturday, January 4, 2020, at 12 p.m., at St. Johns Lutheran Church in Statesville.
Nicholson Funeral Home is honored to be serving the Wooten family.