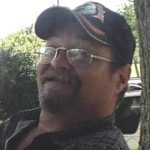 Cola "Jimmy" Ayers, 54, of Statesville, N.C., passed away on Friday, November 22, 2019, at his residence. He was born on September 30, 1965, in Henry County, Va., to the late Cloyd Jack Ayers and Mary Elizabeth Byrd Ayers. Jimmy was a member of Yadkin Baptist Church in Statesville.
In addition to his parents, Jimmy was preceded in death by two brothers, Benny and Jerry Ayers.
Jimmy is survived by his wife, Laura Estes Ayers of the home; one son, Chris Ayers (Colette) of Statesville; two daughters, Tabatha Ayers of Statesville and Zoey Estes of the home; two brothers, Tony Hilton (Sue) of Virginia and Allen Ayers of Statesville; four sisters, Tammy Blevins (Phillip), Mary Settlemyre (Jerry) and Carolyn Justus, all of Statesville, and Gail Hudler (Kerri), of Virginia; and two grandchildren, Chloe Ayers and Landon Gemes.
The family will hold a private Memorial Service at a later date.
Chapman Funeral Home is serving the family.