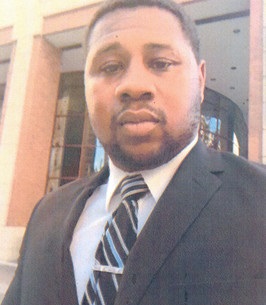 Dana Shaquille Teunthony Lewis, 25, was born in Iredell County on February 25, 1994, and was the son of the late Johnny Lewis Jr. and Lisa (Hoover) Patterson. He departed this life on Saturday, December 14, 2019, in Harmony, N.C.
Dana was a graduate of Mooresville Senior High School, Class of 2012, where he participated on the football and wrestling teams. After graduating, he served in the U.S. Marine Corps. He traveled to Japan and led specialist training in Quantico, Va. While serving in the military, Mr. Lewis received a number of awards, including Marine Corps Good Conduct Medal, National Defense Service Medal, Global War On Terrorism Service Medal, Sea Service Deployment Ribbon, two Letters of Appreciation, Expert Rifle Qualification Badge; and two Marksman Pistol Qualification Badges. He also was a member of the Marine Corps football team.
During the course of his life, Dana was a member of First Baptist Church in Harmony, N.C. He participated in numerous things in the church. He served in the Junior Choir, on the Usher Board and many other roles. He was a valued member of MCMBA. He went to the oratorical contest for six years at state level. He received various accolades from various things he loved to do, ranging from music to owning his own company and being a great humble Gentle Giant.
He was preceded in death by his father, Johnny William Lewis Jr., and his uncle Johnathan Haven Preston Parker. He leaves to cherish his memory his mother and stepfather, Lisa and Hoover Patterson; his four sisters, Chelsii Rankin (Mooresville), Kayla Parker (Mooresville), Kenyal Braswell (Mooresville), and Ditasha Smyre (Stony Point); grandparents, Carolene and Joe Steele (Harmony), John Parker (Stony Point), and Johnny W. Lewis Sr. (Newton); four nephews, Vincent Brown Jr., Nasir Holloway, Kyle Holloway and Khalil Holloway; two aunts and uncles, Jessica (Michael) Davidson (Troutman), Anita "Nicole" Parker (Statesville), Veda Anderson (Charlotte) and Robert (Shelia) Rankin of Gastonia; and a host of cousins, relatives and dearest friends.
Visitation i scheduled for 1 to 2 p.m. on Friday, December 20, 2019, at First Baptist Church – Harmony, 126 1st Church Street, Harmony, N.C., followed by the funeral service at 2 p.m.
Rutledge & Bigham Mortuary is serving the family.