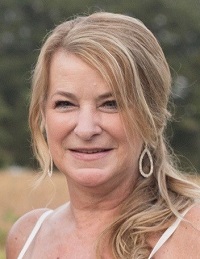 Mrs. Elizabeth Ann Long of Statesville, N.C., passed away on Monday, December 30, 2019, at the age of 51 after a long battle with cancer. Elizabeth loved spending time with her family, friends, and especially her grandchildren. Many will remember her for adding light into their lives.
She is survived by her husband, Dennis Long; her daughter, Krystina Sharp; her son, Ryan Coleman (Anna); and her stepdaughter, Sydney Long. She is also survived by two grandsons, Reece and Liam, and several aunts, uncles, nieces, nephews, cousins, and life-long friends.
Elizabeth was born to parents Cliff and Mary Mitchell on May 14, 1968, in Goshen, N.Y. She grew up as the next to the oldest of four children and attended Marlboro High School. She is survived by a brother, Cliff Mitchell (Laurie), and two sisters, Lisa Gledhill (Glenn) and Mindy Partelo (Danny).
She is now reunited with her parents, Cliff and Mary Mitchell, in heaven.
The family will receive friends and family at Broad Street Methodist Church on Thursday, January 2, 2020, from 1 to 2 p.m. in the church fellowship hall. The memorial service will follow at 2:30 p.m. in the sanctuary.
The family is grateful for condolences. In lieu of flowers, the family would like to request donations be made in her memory to Gordon Hospice House and/or The American Cancer Society. Online condolences may be made to the family at www.troutmanfuneralhome.com
Troutman Funeral Home is serving the family of Mrs. Elizabeth Ann Long.