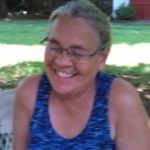 Frances "Fran" Foehlinger, 60, of Mooresville, N.C., passed away on Sunday, November 17, 2019.
A service to celebrate her life will be held at 2 p.m. on Sunday, November 24, 2019, at Cavin-Cook Funeral Home, Mooresville.
She lived her life one day at a time. Fran will be greatly missed by those who knew her best. Carpe Diem.
Cavin-Cook Funeral Home and Crematory, Mooresville, is serving the Foehlinger family.