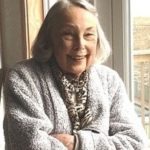 Our Lord and Savior Jesus Christ escorted Joanna Marie Bredlau Wilson to her heavenly home on Saturday, December 28, 2019.
Joanna was born in Miami, Fla., on November 23, 1939. She recently celebrated her 80th birthday. She was the daughter of the late Walter R. Bredlau and Marie Thompson Bredlau.
After graduating from Miami High School, she attended the University of Florida. On May 25, 1968, she married George Clinton Wilson and together they shared 51 years of marriage before her passing.
Joanna and her husband were the founders and co/operators of Events Unlimited, where she served as the secretary and treasurer for 29 years.
Mrs. Wilson was a member of Redeemer Lutheran Church (LCMS) in Catawba, N.C. Joanna loved to sing and was a member of many church choirs along the way, including the Miami Lutheran Chorus and the Cantamos Chior. She was a former member of Gideons Auxiliary and a team member for Laborers for Christ, an organization that traveled and built churches. She loved serving God, cooking, crafting and spending time with her family.
In addition to her husband, Joanna is survived by three children, Denise Batdorf (David) of Conover, N.C., Heather Krumroy (Dan) of Statesville and Glenn Wilson of Pennsylvania. She is also survived by eight grandchildren, Lisa Brittain (David), Laura Spencer (Eric), Kenneth and Kyle Batdorf, Holly, Randi, and Elizabeth Krumroy, and Jami Bragg (Chris). She is also survived by four great-grandchildren, Alexander Krumroy, Lucas and Nathan Brittain, and Christopher Bragg, along with one sister, Susan B. Nardy of Georgia
A service to celebrate Joanna's life and crossing to be with the Lord will be conducted on Saturday, January 4, 2020, at 2:30 p.m. at Redeemer Lutheran Church, 200 S. Main Street, Catawba, NC 28609 with Pastor Greg Alms officiating. The family will receive friends from 1 until 2:15 p.m. at the church. The family will have a private interment at a later date.
In lieu of flowers, memorials may be made to the Gideons International, P.O. Box 148, Statesville, NC 28687.
Online condolences can be made to the family at www.nicholsonfunerals.com. Nicholson Funeral Home is serving the family of Joanna Bredlau Wilson.