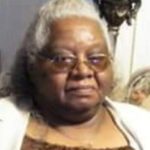 Ms. Linda Sue Smyre, 70, of 124 Carolina Wren, Mooresville, N.C., passed away on Saturday, December 28, 2019, at Novant Health Center in Winston-Salem following an extended illness. She was born in Iredell County on June 21, 1949, and was the daughter of the late John Wesley Smyre and Mary Louise Redmond Smyre.
In addition to her parents, she was preceded in death by her stepdaughters, Yonnah Daye and April Lawrence; a stepson, Kenny Lawrence; two brothers, Johnny Smyre and Donald Ray Smyre; and Herbie James; and a sister, Mary Lois Imes.
She attended Houstonville Elementary School and was a graduate of Unity High School and attended New Jerusalem Apostolic Church of Mocksville. Prior to her illness, she was employed by Aeroquip.
She leaves to cherish the memory of her life, her life-long companion, Melvin Parks of the home; her children, Edward McIntosh of Mooresville, Ruby Smyre of Stony Point, Linda K. Smyre of Harmony and DoAlicia Parks of Mooresville; her stepchildren, Pamela Lawrence, David Parks, Jimmy Lawrence, Willie (Carolyn) Lawrence, Melvin Colvert, Patricia Rucker, Shirley Lawrence, all of Statesville, and Betty Frazier of Taylorsville; two sisters, Elouise Ijames (James) Parks of Statesville and Cora (Cornelius) Speakman of Charlotte; a sister-in-law, Alisa M. Smyre of Mooresville; her grandchildren, Tevin Smyre, Quataye Smyre, Quataysia Smyre, Qua'shyia Thompson, Cor'Alizuh Bradshaw, Bra'Niyah Parks and Faith Knox; six great grandchildren, Jasmine Brown, Jaden Welborn, Myah Smyre, Arizona Smyre, Kody Smyre and Amoura Smyre; a special friend, Willie Faye Davis, and family of Winston-Salem; a host of nieces, nephews and cousins, including a special cousin, Kathy (Chester Tucker) Leach of Woodleaf; other relatives and friends.
Celebration of Life Services will be conducted on Saturday, January 4, 2019, at 1 p.m. at Rutledge and Bigham Funeral Home. Pastor Nettye Ijames-Barber will officiate and burial will follow in the New Jerusalem Apostolic Church Cemetery, 291 Martin Luther King Jr. Road, Mocksville, NC 27028.
Members of the family will receive friends at the funeral home from 12 until 1 p.m., but will assemble at the residence of a daughter, Ruby Smyre, 174 N. Thomas Lane, Stony Point, N.C., at other times.
Visit the Book of Memories for Ms. Smyre at www.rutledgeandbigham.com.
Rutledge and Bigham Funeral Home is serving the family of Ms. Linda Sue Smyre.