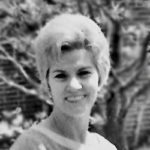 Marjorie Hendren Hager left for her heavenly home on December 10, 2019. She was the youngest child of Charles and Jo Hendren of Stony Point and was born on January 3, 1925.
She graduated from Stony Point High. While still a teenager, she spotted a good-looking boy walking to the barbershop and she whistled at him. She married that boy, Eugene Hager, in 1941. She worked as a quality inspector at clothing manufacturers such as Pierpoint and Blue Bell. She was spiritual minded and was brought up in the Baptist Church, but joined New Amity AR Presbyterian Church in later years.
She is survived by Gene and their two children, Bobby (Judy) and Sherri, who was also caregiver, along with "little sunshine" Miss Priss.
Marjorie will be remembered for her mischievous sense of humor that she had up to the end of her life, her advice to look to the Bible first, encouraging her children, her ready smile, and her belief that a new tube of lipstick makes everything right. She has "run the good race" for over ninety years. We are better for her being in our lives, and will greatly miss her.
Visitation in memory of Marjorie Hendren Hager will be held Sunday, December 15, at new Amity ARP Church in Statesville from 2 to 3 p.m. New Amity ARP Church is located at 150 Logan – New Amity Road, Statesville, N.C.
Thank you Cassandra, Marilyn, Emily, Katrina, Alma, Jessica, Christy Georgeson, PA and Hospice Staff. Online condolences may be left for the family at www.bunchjohnsonfuneralhome.com.
Bunch-Johnson Funeral Home is honored to be serving the Hager family.