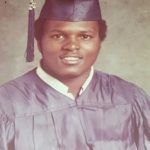 Mark Anthony Dale Daye, 61, of 1015 Wilson Lee Boulevard, Statesville, N.C., was born in Iredell County on December 6, 1958, and was the daughter of Laura Phifer Daye and the late James Edward Daye. He departed this life on Monday, November 7, 2019, at Maple Leaf Health Care following an extended illness. In addition to his father, he was preceded in death by a nephew and niece, Rekino Stewart and Tania Stewart.
He was a 1977 graduate of South Iredell High School and was a member of Shinnsville United Church of Christ. At one time, he was employed by Uniglass in the Service Department, and he retired from the golf course. He was a Cowboys fan.
Left to remember and cherish the blessing of his life are his mother, Laura Phifer Daye of Troutman; his girlfriend, Sherry Heaggans of the home; his friend, Shawn Heaggans; his siblings, Rick (Daffney Stevenson) Daye of Statesville, Jarvis Harris of Charlotte, Duncan (Dottie) Daye of Kannapolis and Steven Daye of Forestville, Md., Juanita Daye Murphy of Winston-Salem, Laura Francine Daye of Winston-Salem, Gladys Tena Daye of Kernersville, Sonjia Daye of Troutman and Shirley Daye of Statesville; and a host of nieces, nephews, cousins, aunts, uncles, other relatives and friends.
Celebration of Life Services will be conducted Tuesday, November 12, 2019, at 1 p.m. at Shinnsville United Church of Christ. Reverend Dr. Betty Graves, Pastor will officiate and Reverend Steven Daye will eulogize. Burial will follow in the Church Cemetery.
Mr. Daye will remain at Rutledge and Bigham Funeral Home until taken to the church to lie in state at 11:30 a.m. Members of the family will receive friends at the church from 12 until 1 p.m., but will assemble at the residence of his mother, Laura Phifer Daye, 431 Weathers Creek, Troutman, N.C. Visit the Book of Memories for Mr. Daye at www.rutledgeandbigham.com.
Rutledge and Bigham Funeral Home is serving the family of Mr. Mark A. Daye.