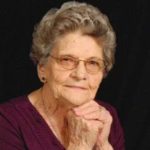 Miriam Elizabeth Burrell Crisco, 97, of Mooresville, N.C., passed away on Sunday, December 1, 2019, at Gordon Hospice House in Statesville, N.C.
She was born on July 3, 1922, in Greenville, S.C., to the late Fred and Auggie Campbell Burrell. Mrs. Crisco was married to Walter Marshall Crisco, who preceded her in death.
She was a loving wife, mother, sister and grandmother. She retired from Canon Mills in Kannapolis and then worked briefly at Parker Hannifin. After her retirement, she enjoyed making quilts, doing ceramics and cooking.
She loved Jesus and was a member of First Baptist Church in Mooresville.
In addition to her husband, she was preceded in death by a daughter, Juanita Crisco; a grandson, Mike Crisco; a daughter-in-law, Barbara Crisco; sisters, Mamie Canupp and Mae Byars; brothers, Angus Burrell, Carlos Burrell, H.B. Burrell and Fred Burrell.
She is survived by sons, Marshall Eugene Crisco of Wadesboro, N.C., and James Harrison Crisco of Mooresville; daughter, Frances Barkley (Sonny) of Statesville; brothers, Percy Burrell (Helen) of Spartanburg, S.C.; Gentry Burrell of Chester, S.C.; sisters, Jannell Reiter (George) of Taylors, S.C.; Bobbie Barnes of Lancaster, S.C.; Ruth Foster of Midland, N.C.; Aileen Brown (Harold) of Chester, S.C.; and Sara Loving of Chester, S.C. Also surviving are grandchildren, Rodney Crisco, Jonathan Crisco, Andrew Crisco (Rachel), Trena Morrison (Chris), Marcia Perrell (Dean), Tina Coe, Renee Crisco, and Denise Eudy (Terry); and great-grandchildren Meredith Morrison, Will Morrison, Alex Perrell, Ashley Perrell, Sara Coe, Amber Lobaino (Darien), Christopher Hatfield, Lyla Crisco, and Miller Crisco.
The family will receive friends on Wednesday, December 4, from 10 to 11 a.m. with a service following at 11 a.m. at Cavin-Cook Funeral Home Chapel. Burial will follow the service at Glenwood Memorial Park.
In lieu of flowers, memorials may be made to First Baptist Church, 150 S. Church Street, Mooresville, NC 28115 or Hospice & Palliative Care of Iredell County, 2347 Simonton Road, Statesville, NC 28625.
Cavin-Cook Funeral Home & Crematory, Mooresville, is serving the Crisco family. Condolences may be made to the family at www.cavin-cook.com.