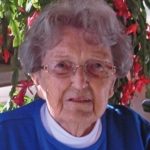 Pauline Reese Charles passed on to her Heavenly home in the early morning hours of December 15, 2019, to be with her Lord and Savior Jesus Christ.
Pauline was born in Statesville, N.C., the youngest of nine, to the late David Clarence Reese and Bessie Shook Reese on February 18, 1924. At the young age of 11, she moved with her mother and siblings to Washington, D.C., where she grew into adulthood. She graduated from Eastern High School. She met and married the man of her dreams, Robert Charles, and they married February 28, 1942. Rob served in the Navy and they started their family.
After World War II they settled in Potomac, Md., where Pauline began her 28-year career as an elementary school secretary. Upon their retirements in 1975, they moved to Statesville and built a home on Sharon School Road, where they enjoyed every day of their retirement years.
Pauline was a member of New Sterling ARP Church and served in many capacities, among them Women of the Church and Sterling Silvers. She also was a long-time member of the Homemakers Club and the Red Hats.
Pauline represents a life well-lived, full of love and service. She was devoted to her husband of 62 years, her children, grandchildren, great-grandchildren, siblings and extended family. She was a faithful servant at church and in her community, demonstrating hospitality and generosity. Her sense of humor made people feel welcome and at ease. She was a woman who appreciated the beauty of nature. The joy she received from her home, land, the birds and nature that surrounded her was always an example to stop and be thankful—to remember the Lord and His work.
Pauline was preceded in death by her parents and siblings: Glenn (Alma), Hal (Anna), Guy (Eutrella), Fred (Gladys), Clyde (Edith), Pressley (Lucille), Elmer (Irma) and Dorothy (Sam).
She is survived by her daughter, Barbara Boyden (John) of Pensacola, Fla., and son, Richard Charles (Patty) of Statesville; grandchildren, Bill Boyden (Amy) of Denver, Colo., Rob Boyden (Brenda) of Kennesaw, Ga., Amanda Lancaster (Shawn) of Statesville and Julie Wine (Matthew) of Piney Flats, Tenn.; and 12 great-grandchildren and two great-great grandchildren.
A very special thanks to her caregiver and friend, Jewell, and to all the special caregivers at Home Instead. The Angels of Hospice have made an incredible difference to Pauline and her family as they helped her transition into Heaven.
The family will receive friends Saturday, January 4, 2020, from 12:30 to 2 p.m. in the fellowship hall of New Sterling ARP Church. The funeral service will begin at 2 p.m. in the church sanctuary with Pastor Dr. Tim Watson and Dr. Earl Linderman officiating. Burial will follow in the church cemetery.
Memorials may be made to Hospice of Iredell County 2347 Simonton Road Statesville, NC 28625 and to New Sterling ARP Church 580 New Sterling Road Stony Point, NC 28678.
Online condolences may be left for the family at www.bunchjohnsonfuneralhome.com.
Bunch-Johnson Funeral Home is honored to be serving the Charles family.