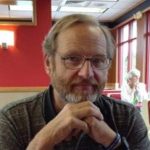 Robert "Eddie" Edward Morrow, 64, of Mooresville, N.C., passed away on Thursday, December 26, 2019, at Atrium Healthcare Cabarrus. Born January 25, 1955, in Mooresville, he was a son of the late Marvin Edward "Mode" Morrow and Nell Hazelene Smith Morrow.
Mr. Morrow was a retired minister. He attended River Life Fellowship Church in Mooresville. Mr. Morrow lived in Mexico for 11 years as a missionary. He was the secretary of the regional Union of Shepherds in Mexico. Mr. Morrow assisted with numerous ministry groups.
He is survived by his wife, Angelica Bernal Morrow; daughter, Brandy Falcon (Miguel); sister, Faye Morrow; and grandchildren, Stephen Morrow-Falcon, Tristan Falcon and Lacy Falcon.
A memorial service will be held at 3 p.m. on January 5, 2020, at the Mooresville Church of God with Rev. Byron Wicker officiating. The family will receive friends immediately after the service. Flowers are accepted, but contributions would be greatly appreciated by the family to assist with funeral expenses.
Contributions may be made to Cavin-Cook Funeral Home, P.O. Box 977, Mooresville, NC 28115. (Please put Mr. Morrow's name in the memo.)
Cavin-Cook Funeral Home, Mooresville, is serving the family of Mr. Morrow. Condolences may be made to the Morrow family at www.cavin-cook.com.