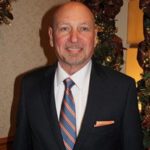 Alberto Caruso, 63, of Mooresville, N.C., passed away peacefully on Tuesday, March 17, 2020, surrounded by his family at home after a brave, courageous battle with cancer.
He was born on September 17, 1956, in Argentina to Teresa Agostara Caruso and the late Gandolfo Caruso.
Mr. Caruso and his family moved to Italy when he was 8 years old and a year later moved to the United States, settling in Brooklyn, N.Y. From a young age, he learned the language of the places he lived and was trilingual throughout his life. He was a 1980 graduate of Bernard M. Baruch College in Manhattan. In June 14, 1987, he married Luisa Troia at St. Bernadette's Church in Brooklyn. Al's longtime employer, TIAA Financial Services, relocated the Caruso family to North Carolina in 2004. This turned out to be a great blessing for the entire family.
He enjoyed watching movies, especially Westerns and James Bond movies, and loved classic cars. He loved spending time with his family and always put their concerns above his own. Al endured all the treatments available to him to extend his life and never complained. He kept his sense of humor until the very end.
In addition to his mother, Mr. Caruso is survived by his wife of 32 years, Luisa Troia Caruso; sons, Michael Caruso, Christopher Caruso, and Daniel Caruso; and sister, Nancy Magaldi and husband Joseph.
The family will receive friends on Friday, March 20, from 2 to 4 p.m. with a prayer service at 4 p.m. at Cavin-Cook Funeral Home. A funeral service will be held at 10:30 a.m. on Saturday, March 21, at Cavin-Cook Funeral Home Chapel with Rev. Mark Lawlor officiating. Per Executive Order 117, only 50 people at a time will be able to greet the family.
In lieu of flowers, memorials may be made to Hospice & Palliative Care of Iredell County, 2347 Simonton Road, Statesville, NC 28625.
Cavin-Cook Funeral Home & Crematory, Mooresville, is serving the Caruso family. Condolences may be made to the family at www.cavin-cook.com.