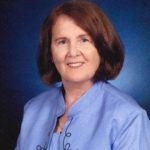 Anne Nelson Anderson, 74, passed away peacefully at her home in Mooresville, N.C., on May 17, 2020, after a courageous battle with liver cancer.
Anne was the daughter of the late William Wingfield and Rosalie Bates Nelson of Richmond, Va. She graduated from Huguenot High School in 1964 and William & Mary University in 1968. While in college she met her husband of 52 years, Harold Roger Anderson. Following Roger's military service assignments in Okinawa, Japan and Georgia, the couple settled in North Carolina, raising three children and becoming grandparents of four.
Anne asked Jesus to be her savior at age seven. She asked Jesus to be the Lord of her life as a young married woman and constantly strived to have her personal priorities in line with the Lord's priorities. She put Jesus first, family second, and then her church and vocation. Anne was always looking for ways to serve others through her gifts of encouragement and administration. She was very involved in many ministries at her churches including music, missions, children's education, and interpreting for the deaf. Anne and Roger enjoyed volunteering on numerous mission trips and disaster relief initiatives. She worked as an interpreter for the deaf in Charlotte-Mecklenburg Schools for twenty years. During her retirement years, Anne's focus was on her four grandchildren and making positive memories with family and friends. When macular degeneration prevented her from active involvement, she became a prayer warrior.
She was predeceased by her brother Bill Nelson Jr. (Joyce). She is survived by her loving husband Roger; daughters, Beth McCracken (Kevin) of Clemson, S.C., Sarah O'Neill (Davin) of Mooresville, N.C., and son Christopher of Boston, Mass.; and four grandchildren, Thomas and Rosalie McCracken, and Carlisle and Tace O'Neill; her brother, John Nelson (Margie) of Richmond; and sister, Jan Broome (Bill).
A celebration of life will held at later date.
In lieu of flowers, contributions can be made to Peninsula Baptist Church, 687 Brawley School Road, Mooresville, NC 28117.
Cavin-Cook Funeral Home & Crematory, Mooresville, is serving the Anderson family. Condolences may be made to the family at www.cavin-cook.com.