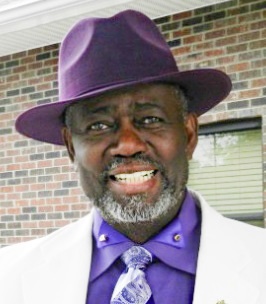 Mr. Augustus Leonard Jones, 73, of 244 Winter Flake Drive, Troutman, N.C., passed away at his home on Wednesday, April 1, 2020.
A LIFE WELL LIVED … ALL THINGS CONSIDERED
He is described by his students, peers, colleagues, Saints, and family as a man of God, a great teacher who held us accountable, a powerful mentor, an example of excellence, brilliant, capable, dedicated, distinguished, a man of great influence, a righteous man of God, a father figure, a role model for African-American men, strong, wise, courteous, kind, a devoted steward, and wonderful friend. These are only a few of the sentiments shared about Augustus "Gus" Jones Sr., my husband and partner of 51 years.
Augustus "Gus" Leonard Jones Sr., was born in Burlington City, N.J., on Tuesday, October 22, 1946. He was the first son to Augustus Lee Jones and Emma Corethia Houston Jones. Gus was baptized and received spiritual training at Primitive Baptist Church in Burlington, N.J., under the leadership of Elder Honest Hawkins. The family was raised in Burlington City, with his 5 five sisters and two brothers. There, he went through the Burlington City School system, demonstrating himself to be an exemplary student and athlete as one of Burlington's outstanding basketball players. Upon graduation from Burlington City High School in 1964, he was offered an academic scholarship to attend Princeton University. However, under the direction of the late Bishop Enoch B. Rochester, he ended up going to Livingstone College on a basketball scholarship. Attending Livingstone provided him the opportunity to see and work with professional black men, fulfilling his parents' desire.
He graduated from Livingstone College in 1968 with a double major in English and History. He was the first in his family to graduate from college. While at Livingstone, Gus was a four-year member of the basketball team and served as co-captain during his last two years. It was at Livingstone that Gus met and married his wife of 51 years, M. Stephanie Collins Jones. Their wedding was three days after graduation.
Upon graduation, Gus intended to go to school to become a lawyer but was encouraged to return to Burlington City by Mayor Costello. The mayor convinced him to first give back to Burlington City before continuing school. Gus decided to heed the advice and planned to teach for two years and then attend graduate school. Thirty-eight years later Gus was still working for the school district, giving back in major ways. This was a decision he never regretted. In addition to his under graduate degree from Livingstone, Gus completed graduate work and obtained his Substance Awareness Counseling (SAC) certification from Rowan University, completed family counseling training at Liberty University, and received education and guidance counselor training at Rider University.
He began his career teaching English and Social Studies and worked to become an influential figure in the community. During his time in Burlington, he coached basketball, became the advisor to the Student Council Middle School and High School, the SEPIA club, and served as an advisor for many other student organizations. Gus was recruited to coach varsity basketball at Northern Burlington Regional High School for five years.
After obtaining his SAC certification he was promoted to the position of Substance Awareness and Health and Social Service Coordinator (SAC/HSSC) for Burlington City Schools. As the SAC/HSSC he was instrumental in getting services for the student population in the form of partnerships with many community organizations, mentoring and the School Based Youth Services.
His efforts resulted in the construction of the School Based Youth Services building staffed by a team of professionals equipped to address the needs of the students as it concerned family and drug issues. He also worked with the local police departments, developing programming to address the rising gang issues in the community.
Gus Jones was particularly pleased with the group he founded entitled the City Intelligent Talented Youth Group (CITY Group) founded to address the lack of minority males who had grade averages high enough to get into college. The success of the organization resulted in a substantial increase in GPAs and minority males attending college from Burlington City. It became so successful that the minority females demanded a CITY Group as well.
Several years into his career at Burlington City he was appointed to serve with the New Jersey Department of Education on the Test Specification Committee, then on the Test Development Committees of the Writing and Language Arts Committees of the Early Warning Test 8th, GEPA HSPA-9, and the HSPT-11 NJ State exit exams. When it became evident that the minority students were struggling with the exams, a decision was made by Mr. Jones and his wife, M. Stephanie Jones, to develop the Mustard Seed Education Center of Pemberton, N.J. The goal of the Center was to tutor students from age eight through adult in reading and writing, and mastering study skills, and the skills necessary to pass the state GEPA & HSPA exams, along with the SAT. The Mustard Seed successfully remained in business for 25 years. As a result of the effectiveness of the Mustard Seed, they were asked to develop a series of SAT prep workshops for the Youth Achievers' Committee, Inc. (YAC). Because of the success of the workshop series, "his constant modeling of excellence, steadfast commitment to the youth of Burlington County and staunch leadership as he walked circumspectly before the community," YAC Inc. decided to honor Mr. Jones by naming their highest college scholarship award after him – The Augustus L. Jones Scholarship Award.
With all that Gus Jones was doing, as a righteous man of God, he was actively involved in the church no matter where he lived. Two examples: in New Jersey, Mt. Zion AME Church, Bordentown, he served on the Steward Board, as a Trustee, in the Senior Choir, Men's Choir and served many years as Sunday School Superintendent and as the Wednesday Bible Study instructor. In North Carolina, he was a Deacon at New Life Missionary Baptist Church, taught Wednesday Bible Study, taught Adult Sunday School and Adult VBS, and was the head of the Men's Fellowship.
Gus loved Livingstone College, his alma mater! He attended homecoming all but one year since he graduated, served as President and Life Member of the Livingstone College National Alumni Association, served on the Board of Trustees, was inducted into the Athletic Hall of Fame, and recently worked at Livingstone College in the Success Center Reading Center.
As a member of the United Negro College Fund – National Alumni Council (NAC) he was serving as the Governmental Relations Chair– 2016 to present.
Augustus Jones Sr. is also an Omega Man as a life member of the Tau Alpha Chapter of Omega Psi Phi Fraternity Inc. He has served the fraternity in many capacities and was honored as Omega Man of the Year in 2015.
When time permitted Gus loved to travel, garden and watch sports – especially college basketball. He was preceded in death by his father, Augustus Lee Jones; mother, Emma Corethia Houston
Jones; sister, Patricia Miller (Charles); brothers, Johnathan Jones, Gary C. Jones (Cynthia – also deceased) and a dear cousin, Wade Epps. He will be missed by his wife of 51 years, M. Stephanie Jones; his sons, Augustus Leonard Jones Jr. (Barbara) and Shawn Lee Jones; his daughter, Nicole Alexandra Jones-Cox; grandsons, Donald Summers, Quran Noah Warren; granddaughters, Tryphena Mercedes Cox, Sara Renee Jones, Abishai Porsche Cox, Destiny Wray, Abigail Adriana Jones; Sisters, Marlene Coley, Loretta Crawford (Henry), Christine Long, Veronica Jones; sister-in-law, Maryann Wilson; and a host of great-grandchildren, aunts, uncles, nieces, nephews, cousins.
Sorrowfully Submitted by M. Stephanie Jones.
Celebration of Life Services will be conducted Monday, April 6, 2020, at 2 p.m. at New Life Missionary Baptist Church. Reverend Ivan Cowan will officiate and burial will follow on Saturday, April 11, 2020, at the Odd Fellows Cemetery in Burlington City, New Jersey.
There will be no public visitation; however, general public viewing will be on Sunday, April 5, 2020, until 7 p.m. and Monday, April 6, from 9 a.m. until 12 noon until he is taken to the church to lie in state.
Unfortunately, with the COVID-19 crisis, Rutledge and Bigham Funeral Home, along with other funeral homes across the country, have been issued a mandate to limit the number of family and/or friends at funeral services. You can only enter the funeral with a funeral pass, which will be given to the family.
Rutledge & Bigham Funeral Home is serving the family.