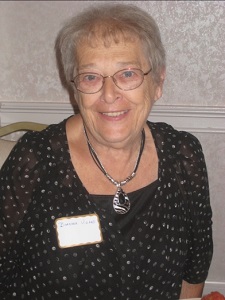 Mrs. Barbara Ann Grazio Vizard, 85, of Statesville, N.C., passed away, Wednesday, July 22, 2020, at the Gordon Hospice House. Barbara was born November 1, 1934, in Groveland, Mass., and was the daughter of the late Anthony J. and Genevieve Rocco Grazio.
She was a graduate of Groveland High School and Pierce Secretarial School in Boston, Mass. On October 12, 1958, she married Lowell Wesley Vizard, who survives. She was a bookkeeper for Dewhirst TV for many years and later, when she moved to Statesville, she enjoyed being a volunteer at Davis Regional Hospital. She also enjoyed reading, crafts and traveling with her husband.
In addition to her husband, she is survived by two daughters, Lynda Colby and husband Keith of West Newbury, Mass., Julie Zuidema and husband Wayne of Sturbridge, Mass.; two grandsons, Wes and Wade Zuidema of West Newbury, Mass.; one sister, Brenda Grazio Dow of West Newbury, Mass., and several nieces, nephews and cousins. She was preceded in death by one brother, Richard Grazio.
A private family service will be held at a later date.
Troutman Funeral Home is serving the family of Mrs. Barbara Vizard.