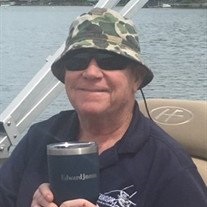 Richard "Rick" Kemp Spicer, 70, of Mooresville, N.C., passed away on 20 July 2020 at home with his loving wife of 38 years, Marilyn, at his side. Rick was born on 5 August 1949 in Baltimore, Md.
Rick was passionately devoted to his family as a husband, father, grandfather, brother, and uncle. Whether he was boating on the lake, fishing, enjoying travel adventures, celebrating birthdays, or hosting holiday gatherings, he was always happiest in the company of family and friends.
Rick was selfless in his dedication to a life of service to his country and community, becoming an Eagle Scout early in his life. Retiring from the United States Air Force in 1996 as a lieutenant colonel, he served for 23 years in some of the most challenging worldwide special operations assignments and projects. He was a Command Pilot (call sign "Spike") with over 5,000 flying hours in T-38, OV-10, and C-130 Combat Talon aircraft. Following his active-duty service, he worked for 17 years for McDonald-Douglass and then Boeing Company managing DOD-related projects in St. Louis, Mo., and Philadelphia, Pa. He retired with Marilyn for the last time in 2013 to their "Spicer's Lading" lake house in Mooresville.
Rick's education included a Bachelor of Science degree in aeronautical science from Embry Riddle Aeronautical University and a Master of Arts degree in Management from Webster University.
Rick was preceded in death by his parents, Richard Abram Spicer and Virginia Kemp (Lehman) Spicer; and a sister, Vickie Spicer. He is survived by his wife Marilyn (Mitchell); his oldest son, Richard Spicer and wife Christine; grandchildren Ellie and Matthew from Columbia, S.C.; their daughter, Stephanie French and husband Anthony; grandchildren, Penelope and Fiona from Statesville, N.C; their son, Max Spicer and wife Jenna, from Glen Ellyn, Ill.; his brother, John Spicer from Mooresville; his sister, Anita Lane from Baltimore, Md.; and several nieces and nephews.
Rick was a member of the Sigma Chi fraternity. His professional memberships included the Air Force Association, Special Operations Warrior Foundation, and other service-related organizations.
A memorial service and internment at Salisbury National Cemetery will be announced by the family at a later date.
Cavin-Cook Funeral Home, Mooresville, is serving the Spicer family. Condolences may be made to the family at www.cavin-cook.com.