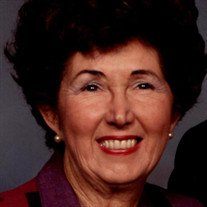 Barbara Marie Berkey Graham, joyful and loving wife, mother and grandmother (affectionately known as "Boombah" to her beloved grandchildren) entered Heaven's gates on November 25, 2020, after living a life of faith and grace for 96 years.
Born on March 26, 1924, in Chicago to Elizabeth E. (McCann) and Kenneth W. Berkey, Barbara grew up in Jamestown, New York, and then Canton, Ohio. A proud member of Lehman High School's Class of 1942 (where she served as Class Secretary), Barbara continued to enjoy her many friends as she planned numerous social activities, culminating in their 50th Class Reunion in 1992.
As a student at Kent State University, Barbara continued to serve in class officer positions, was president of her Alpha Omega sorority, and voted "Most Popular Woman" on campus in 1945. Immediately following her graduation she began teaching at Timken Vocational High School, where she made a difference in the lives of many young people. She met her future husband Bob while working during the summer at Timken Roller Bearing Co. It was love at first sight and they were married on August 28, 1948. As a couple, they enjoyed spending many Saturday evenings dancing in the Moonlight Ballroom at Meyers Lake.
They purchased a home on Lake Cable and spent many wonderful years enjoying lake life and raising their three daughters. Barbara continued to be socially active. In addition to bridge clubs and her work as a member of the Canton Junior Woman's Club, she and her girlfriends formed a "stock club" (The Wall Street Wonders), which met at members' homes, frequently hosted guest speakers, and made investments.
Barbara and Bob were charter members of the Church of the Lakes (United Methodist), where she served in many capacities, including as volunteer church secretary, and she loved being a member of the Chancel Choir's alto section.
Barbara was an active volunteer in her church and community and truly enjoyed spending time with family and friends. She always made everyone feel welcomed. Among her passions were singing, playing bridge, reading, watching sports, attending theatre and musical performances and planning get-togethers. She spent many wonderful winters in Ft. Myers, Fla., before moving full time to Mooresville, N.C., to be nearer to family.
Barbara is survived by her loving husband, Robert Allen; daughters Nancy (Dave) Whitman and Susan (John) Croley of Mooresville, N.C., and Melinda (J. Andrew) Bostick of Charlotte, N.C.; seven grandchildren, Allison Graham, Elisabeth (Chris) Fredell, John Andrew Croley, Caroline Whitman, J. Alexander Bostick, Zachary Bostick, and Joshua Croley.
She was preceded in death by her sister, Betty Ballard.
In lieu of flowers, those desiring to honor her life may send donations to a charity of choice or to the Church of the Lakes, 5944 Fulton Drive, Canton, Ohio 44718.
Nicholson Funeral Home is serving the family.