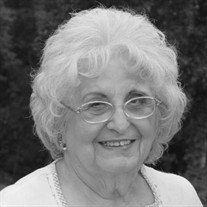 Bernice Marie Belcher Estep, 83 of Stony Point, N.C., passed away Monday, October 19, 2020, at Gordon Hospice House after an extended illness. She was born Tuesday, March 9, 1937 in McDowell County, W.Va., to the late John Burns Belcher and Biddie Marie Lester Knight. Bernice worked for Foothills Rehabilitation for Alexander County.
In addition to her parents, Bernice was preceeded in death by two sons, Phillip Pinkerton and Steve Daughtery; one grandson, Corey Daughtery; two sisters, Janice Roberts and Maxine Belcher; and two brothers, Bobby Belcher and Ronnie Lester.
Bernice is survived bycher husband of 49 years, Albert Dean Estep of the home; two daughters, Vicky Gibson and husband Bastian of Virginia, and Bobbi Arnett (Ben Smith) of Stony Point; one step-daughter, Angel Smith and husband Brett of Florida; two step-sons, Rodney Estep of Stony Point and Keith Estep of Mooresville; one brother, Charles Belcher of Iowa City, Iowa; one sister, Joyce Hayes of North Wilkesboro; sister in-law, Christine Lester of Ackworth, Ga.; 11 grandchildren; and nine great grandchildren.
A Graveside Service only will be conducted at 11 a.m. on Thursday, October 22, 2020, at Woodlawn Memorial Cemetery, in Blue Well, W.Va. Oscar Roberts and Gerald Ward will officiate.
Chapman Funeral Home is serving the family.