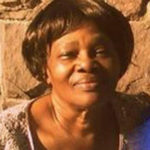 Miss Betty Jean Leach, aka "B.J.," age 74, of 301 Fern Hill Road, Troutman, N.C., was born in Catawba County, N.C., on May 12, 1946. She was raised by Betty Louise Ramseur Leach and the late Paul William Leach. She departed this life on Sunday, May 24, 2020, at Iredell Memorial Hospital in Statesville, N.C., following an extended illness.
She attended the Iredell-Statesville Schools and was employed by Iredell-Statesville Schools. She was employed by Cannon and Burlington Mills for many years until their closures. Betty Jean continued working at Lakeshore elementary and middle schools as a cafeteria worker until she eventually retired.
She was a member of Joy Delight Commandment Keeping Church, where she served as the president of the Usher Board and president of the Hospitality Committee. She was also a member of the Bells Crossroads Home Extension Club.
She was preceded in death by two brothers, Paul Edward Leach and Ricky Wrenn Leach.
She leaves to cherish the memory of her life her mother, Mother Betty Louise Ramseur Leach; one son, John (Kellie) Leach of the home; two daughters, Dorothy Leach of Troutman and Angela Leach of Statesville; one grandchild, Mahalia Leach of Troutman; three sisters, Evangelist Clara Rucker and Bernice (Samuel) Sharpe, both of Troutman, and Patricia Ellis of Statesville; one brother, Pastor Walter (Beverly) Leach of Troutman; and a host of nieces, nephews, aunts, cousins, other relatives and friends.
Cry for me just a little while,
Laugh smile and rejoice and
Remember the life we shared along the way.
I know in our hearts you will be missed.
Cry for me just a little while,
Laugh a lot, smile a lot
Rejoice forever!
Celebration of Life Services will be conducted Friday, May 29, 2020, at 12 noon at Rutledge and Bigham Funeral Home. Elder Shannon Cherry will officiate and Pastor Walter Leach will eulogize. Burial will follow in the Joy Delight Church Cemetery in Troutman.
General Public viewing will resume on Friday, May 29, 2020, from 9 a.m. until the funeral hour.
There will be no public visitation. Unfortunately, due to the COVID-19 crisis, Rutledge and Bigham Funeral Home, along with other funeral homes across the country, has been issued a mandate to limit the number of family and/or friends at funeral services. You can only enter the funeral with a funeral pass, which will be given to the family.
Visit the Book of Memories for Miss Leach at www.rutledgeandbigham.com. Rutledge and Bigham Funeral Home is serving the Leach family.