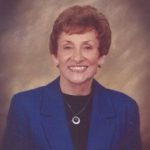 Betty Sue Rogers Rhye, 86, of Charleston, S.C., wife of the late Larry Meacham Rhye, entered into eternal rest Monday, June 22, 2020.
Betty was born March 18, 1934 in Charlotte, N.C., daughter of the late James Nester Rogers and the late Mabel Lefler Rogers Lippard. She was a graduate of Catawba College and was a member of the Kappa Kappa Iota Teaching Sorority. Betty taught in Kannapolis, North Carolina City School District, Charlotte-Mecklenburg Schools and retired from Mooresville Graded School District. She was also a long-time member of the First Baptist Church of Mooresville and currently a member of the First Baptist Church of Charleston.
In addition to her parents, she was preceded in death by her husband, Larry M. Rhye; sister, Betsy Morgan; and brother, Joe Lippard.
She is survived by two sons, Terrell Rhye (Jessica) of Miami, Fla., and Ken Rhye (Cindy Kay) of Charleston, S.C.; six grandchildren, Brett Rhye, Amber Weakley, Iain Rhye, Avery Rhye, Loren Rhye and Santana Rogers Rhye; and six great-grandchildren.
Her private graveside service will be held Thursday, June 25, in the Glenwood Memorial Park, 273 Glenwood Drive, Mooresville, N.C.
In lieu of flowers, memorials may be made to the charity of the donors choice.
Cavin-Cook Funeral Home & Crematory, Mooresville, is serving the Rhye family. Condolences may be made to the family at www.cavin-cook.com.