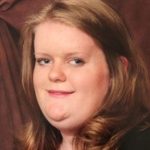 Carli Jordan White, 29, of Statesville, N.C., passed away on Friday, May 22, 2020. She was born April 29, 1991.
Carli possessed a lifelong love for people, animals, and Mickey Mouse; she was beloved for her spirited nature and her fierce love for her family. She had special relationships with her grandparents and found particular joy in spending time with many elder members of her community. Carli had a beautiful voice and loved to sing in church. She enjoyed collecting Disney memorabilia and volunteering with animal rescues and other organizations. She will be remembered for her immeasurable capacity to love, her generosity towards others, her strong will, and her playful free spirit. She will be truly missed.
Carli was preceded in death by her grandparents, Bill and Jessie Jordan, Charlie Poplin, Carl White, Cotton Miller, and Bill Robertson.
Carli is survived by her parents, Lisa Jordan and Delan and Gina White; her sister, Lauren White Gibson (Steve, affectionately known to Carli as "brother Steve"); grandma, Becky Poplin; grandma, Marcine Miller; grandma, Tootie Robertson; step-sisters, Eryn Hagan (Brendan), Jami Jarell (Brandon), Kirsten Montgomery-Garcia (Carlos), and Katelyn Robertson (John); numerous aunts, uncles, cousins, nieces and nephews; "kitten brother" Levi; "puppy nieces" Sadie and Kona; and a number of special doctors and nurses who played a part in her life.
Carli will lie in state at Nicholson Funeral Home until Friday's service for visitors who would like to pay respects. There will be a graveside service on Friday, May 29, 2020, at 1 p.m. at Oakwood Cemetery in Statesville. The family asks service attendees to follow social distancing guidelines.
In lieu of flowers, please send donations to your local animal shelter or humane society.
Nicholson Funeral Home is serving the family.