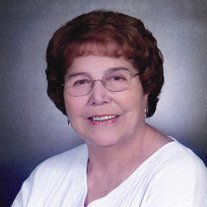 Carolyn Maurice Faulkenberry, 85, of Mooresville, N.C., passed away on Thursday, November 19, 2020.
She was born on July 10, 1935, in Cherokee County, S.C., to the late Rev. William and Bernice Ledbetter Pate. Mrs. Faulkenberry was a member of Trinity Baptist Church in Mooresville. She will also be missed by her church families at Newell Baptist Church in Charlotte and Peninsula Baptist Church in Mooresville.
She was a woman of great faith who loved her God and her church. Carolyn loved to serve others. As a mother of four Charlotte Mecklenburg police officers, she hosted a luncheon quarterly at her church for all first responders for almost 15 years. Even though she had not been able to host it for quite some time, it is still being held in her honor. She taught her family that "Love never fails" and lived that in her everyday life. She loved her family and especially enjoyed time with her grandchildren. Mrs. Faulkenberry taught Home Economics for over 30 years in the Charlotte Mecklenburg School System, and she was an avid reader. She was loved by everyone and will be deeply missed.
In addition to her parents, she was predeceased by her husband, William Cecil Faulkenberry; son, Matthew Ray Faulkenberry; and sisters, Colleen Horton and Kay Mobley.
She is survived by her sons, Mike Faulkenberry (Beth), Mark Faulkenberry (Marla), Richie Faulkenberry (Heather), and Russ Faulkenberry (Jen); grandchildren, Caleb, Noah, Hayden (Samantha), Gavin (Nicole), Morgan, Will, Laysha, and Kenny Faulkenberry; great-grandchildren, Carter, Remington, and Greyson Faulkenberry; brothers, Rev. Bill and Rick Pate; brothers-in-law, Jerry Horton and Rex Mobley; and numerous nieces and nephews.
Due to Covid-19, a private family graveside service will be held at 1 p.m. on Monday, November 23, 2020. You may watch the service by livestream at: https://www.facebook.com/CavinCookFuneralHomeServices/
In lieu of flowers, memorial contributions may be made to Hospice and Palliative Care of Iredell County, 2347 Simonton Road, Statesville, NC 28625 or Alzheimer's Association – Western Carolina Chapter, 4600 Park Road, Suite 250, Charlotte, NC 28209.
Cavin-Cook Funeral Home & Crematory, Mooresville, is serving the Faulkenberry family. Condolences may be made to the family at www.cavin-cook.com.