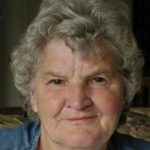 Charlcie Brooks Benfield Lackey, 93, of Statesville, N.C., died peacefully at her home on Thursday, January 9, 2020.
She was born on March 16, 1926, to the late Harvey Sylvanus Benfield Sr. and Tressie Timms Benfield. She was also preceded in death by her husband, Robert Clay Lackey; a daughter, Lorene Billings; two sons-in-law, Steve Billings and William Long; sisters, Helen Byers, Lorene Fox, Cleo Dagenhart, Ruey Fox, and Donna Benfield; brothers, Ervin Benfield, Gordon Benfield, Doyle Benfield, Joe Benfield and Ralph Benfield, sisters-in-law, Edith Benfield and Catherine Benfield; and brothers-in-law, Charles Byers, Ralph Fox, Dave Dagenhart and Seth Fox.
Charlcie was a graduate of Celeste Henkel School, was retired from Uniglass, and was a member of South River Baptist Church. She had a giving heart, which included giving things to others. She enjoyed talking on the phone, playing Bingo, watching TV, especially game shows, collecting gift cards and coupons to go out to eat. Charlcie loved roses, but more than anything, she loved her family, her church and her church family.
She is survived by three daughters, Sue Long, Karole Clanton and Bobbie Jo Hayes (Michael); two sons, Clay Lackey (Brenda) and Billy Lackey; nine grandchildren, Lorey Steelman (Lee), Steve Billings Jr., Michelle Jenkins (David), Brian Lackey (Rachel), Kristy Isenhour Benge, Brooke Massenburg (Ryan), Crystal Hayes, David Hayes and Eric Hayes; 11 great-grandchildren, Carlee Steelman (Brianna), Hailey Steelman, Stephanie Steelman, Lily Billings, Makenzie Jenkins, Alexis Jenkins, Michael Lackey, Nevaeh Lackey, Alex Benge, Abby Benge and Lydia Massenburg; brothers, Ray Benfield (Evelyn) and Benny Benfield (Barbara); and sister-in-law, Ann Benfield.
Funeral services will be held Monday, January 13, 2020, at South River Baptist Church at 2 p.m. with Dr. Chris Thompson officiating. Burial will follow in the church cemetery. The family will visit with family and friends Sunday evening, January 12, 2020, at Nicholson Funeral Home from 6 to 8 p.m. Pallbearers will be Ryan Massenburg, David Hayes, Eric Hayes, Lee Steelman, Steve Billings Jr., Jeff Benfield, Randy Benfield and Kevin Davis.
Fond memories and condolences may be left at www.nicholsonfunerals.com
Nicholson Funeral Home is serving the Lackey family.