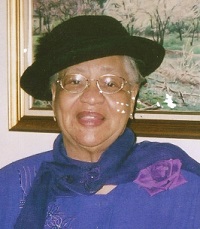 Mrs. Christine Allison Williams, was born in Iredell County on November 19, 1931, and was the daughter of the late Norris and Parthenia Allison. On Friday, February 14, 2020, at Iredell Memorial Hospital, she received her promotion papers to her new life.
She was married to Hile C. Williams, who preceded her in death. She was also preceded in death by several brothers and sisters; as well as two grandsons and one great grandson.
Mrs. Williams received her education in the Houstonville School System. Later she received her Certified Nursing Assistant (CNA) – as she was employed over 18 years at Hill Haven Nursing Home. She later retired from Brian Center Health & Rehabilitation.
Her early church membership was at First Baptist Church, Harmony, where her parents were founding members. She later moved her membership to Friendship Baptist Church in Olin to support her husband. She was a loyal and supportive member of Friendship. Mrs. Williams gave liberally of her time and talents in the following ministries: Deaconess Board, Senior Choir, Sunday School Teacher, and Missionary Board. Once her health started to decline she joined (as a Watch Care Member) Indwelling Spirit MBC and continued to serve the Lord, in the following ministry: Leader of the Rainbow Tea Ministry and Mother of the Church.
Mrs. Williams was active in her community and Association. She served as Chairperson of the Educational Fund for the Yadkin Valley Missionary Association, was a member of the Community Vocal Choir and served as a member of the Eastern Star Solid Rock Chapter 575.
Her hobbies were: croqueting, eating her "chee-chee," using her green thumb as she planted her flowers, and talking on the phone with her sister.
She leaves to cherish the memory of her life two sons, Reverend Carl Williams and Frank (Teawana) Williams, both of Statesville; four daughters, Barbara Dixon and Carolene (Joe) Steele, both of Statesville, Josie (Dr. Darryl) McConnell of Graham, N.C.; and Dorothy (Donnie) Person of Mint Hill, N.C.; her loving sister, Martha Dalton of Statesville; other brothers and sisters – The Nichols Family; a very special friend, Carrie Arrington; seventeen grandchildren; twenty-eight great grandchildren; fifteen great-great grandchildren; and a host of nieces, nephews, cousins, in-laws, other relatives, church family and friends.
As long as life and memory last,
We will remember you
Celebration of Life Services will be conducted Tuesday, February 19, 2020, at The Mary B. Bigham Memorial Chapel of Rutledge and Bigham Funeral Home, Statesville, N.C. Reverend Doctor Darryl McConnell will officiate and Reverend Carl Williams will eulogize. Mrs. Williams will remain at Rutledge and Bigham Funeral Home where members of the family will receive friends at the funeral home from 1 until 2 p.m., but will assemble at the residence at other times.
Visit the Book of Memories for Mrs. Williams at www.rutledgeandbigham.com.
Rutledge and Bigham Mortuary is serving the family of Mrs. Christine Williams.