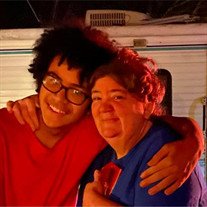 Crystal Dawn LeVan Reed, 49, of Hiddenite Campground, N.C., passed away on Thursday, November 12, 2020, in her home due to the flood. She was born Friday, March 19, 1971, in Iredell County to Billy David LeVan of Hiddenite and Pamela Annette Norton Davidson of Stony Point.
She was formerly a CNA, but had battled multiple sclerosis for many years. She was also of the Christian Faith.
She was preceded in death by her paternal grandfather, Kenneth Eugene LeVan; her maternal grandparents, Tom and Rita Bell Norton; and a grandson, James William Drum III. She died with her son Tyrell Jordan "Ty" Reed.
In addition to her parents, she is survived by her two sons, Thessa Lonnie "T.L." Reed II and fiancee Cierra Miland of Richland, Wash., and Christian Malik Reed of Greenville; a daughter, Rita Lynn Crouch of Taylorsville; three brothers, Joel LeVan and wife Jessica of Hickory, Lucas LeVan and wife Mindy of Hiddenite and Jeremy Davidson; three sisters, Tracy Davidson Shook and husband Charles, Deanna LeVan Watts and husband Chad, all of Taylorsville, and Sarah Leanne LeVan of Myrtle Beach S.C.; maternal grandmother, Frances Walker LeVan of Hiddenite; her granddaughter, Pandora Hope McCloud; and numerous uncles, aunts, nephews, nieces, cousins and friends.
A Double Graveside service will be conducted at 2 p.m. on Tuesday, November 17, 2020, in the Stony Point Cemetery. Rev. Luke Green will officiate. The bodies will lie in state from 11 a.m. to 5 p.m. on Monday, November 16, 2020, at Chapman Funeral Home.
In lieu of flowers, a donation can be made to Chapman Funeral Home for the funeral expenses.
Chapman Funeral Home is serving the family.