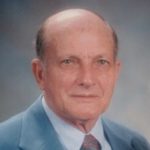 Delbert Crisp of Tuskeegee, N.C., went to his eternal home on August 20, 2020. Born at the beginning of the Great Depression in October 1929 to Joel Harvie and Ida Rosetta Cable Crisp, he lived a long and fulfilling life, overcoming many challenges during his lifetime. Being raised on the family farm in Graham County, hard work, perseverance, and determination were instilled in him. As far as his education, Delbert would say, "I went to school a little in the 7th and a little in the 8th grade" yet had a mind sharper and more discerning than many of his "higher educated" peers. From a young age, jobs were hard to find but he wasn't afraid of hard work. After the Depression as a young man, Delbert carried the mail by foot on a 32-mile roundtrip route through the Appalachian Mountains. In his twenties, he moved to Gastonia with his brother Ben Crisp and worked for Firestone Tire Company before opening their first of many service stations together. In 1959, they both relocated to Cocoa Beach, Fla., where they operated a gas station and convenience store until returning to Tuskeegee in 1964. With the business skills they developed, Ben and Delbert built the Tuskeegee Motel and would remain partners for years until Delbert sold his share to Ben to allow him to focus on raising cattle and tobacco.
While Delbert only stood 5-foot-7, he was one of the strongest men around yet he had a gentle soul. He used his strength and kindness for the benefit of others, but he also would not let people push him around. Once, while working in a factory, a much larger man than Delbert came into the cleanup room and said that he "had been overstepping his grounds with everybody." This man pushed Delbert out of the way to get to the front of the washing line. Delbert decided that he needed a lesson and said, "I bent down and grabbed his britches legs, picked him up on my shoulders, and pitched him headlong into the sink and to the ground. I told him he could wait his turn, or I would give him a whooping that he wouldn't forget." Later this man became a policeman and pulled Delbert over to give him a ticket. Delbert told him, "you are still mad because I whooped you, aren't you?" The man told him he had better shut up or he would throw him in jail. Delbert told him, "I'll whoop you again and then pay the fine." They parted ways without further incident.
This determination and heart for doing what was right would follow him for the rest of his life. Delbert took care of his father with Alzheimer's disease for many years. While caring for his late wife Jo Ann (Sharon's mother) who had Parkinson's disease, Delbert was run over by his Ford 3000 tractor (a miracle survival story). He was determined to recover to care for Jo Ann which he did until her death. Later Delbert would marry Mary Jo Rogers, who was a church member that had lost her husband during the same year Delbert lost his wife. When Mary Jo's son suffered a stroke and was in a less than ideal nursing home, Delbert told her to bring him home, and together they cared for him through his recovery and rehab.
Delbert's hobbies were work, work, and more work. While generally having multiple jobs to provide for his family, he loved farming and his age had little effect on his performance. Several years after the passing of his daughter in 2010, at the age of 87, he and his son-in-law Paul cleared an acre of land that had become overgrown with trees and bushes using chainsaws and a bush hog in one weekend.
While not overly talkative, Delbert would query you about where you stood with your theology and your politics. He was a strong, gracious and loving man who cared deeply for his family. Delbert lived out the words found in Micah 6:8: "He has told you, O man, what is good; and what does the Lord require of you but to do justice, and to love mercy, and to walk humbly with your God."
Delbert was the middle child and was preceded in death by his wife, Jo Ann Shope Crisp; daughter, Sharon Kay Crisp Lowry (Paul Lowry); parents Harvie and Ida Crisp; sisters June "Charlotte" Hedrick, Celestial Chennault, Edith Jenkins, and Opal Jenkins; brothers Barnie Crisp, Ben Crisp and granddaughter Tiffany Sweet.
He is survived by his wife of 24 years, Mary Jo Rogers Crisp of Troutman N.C.; son-in-law Paul Lowry (Gladys) of Statesville; daughter Debby Wheat of Philadelphia Tenn.; stepchildren Gregg Rogers (Jannine) of Olin and Maurica Roemer (Brian); daughter-in-law Debbie Rogers Gibson (Mark) of Statesville; three grandchildren, James Patton Lowry of Statesville, Mary Beth Lowry of Charlotte, Chris Wheat of Loudon, Tenn.; step-grandchildren Joseph Rogers, Arthur Rogers, Ashley Rogers, and Collin Roemer Elisabeth Roemer; and several great-grandchildren.
Funeral services will be held at 3 p.m. on Sunday, August 23, at Fallstown Baptist Church in Statesville, N.C. The family will receive friends from 2 to 3 p.m. at the church, before the service. Facemasking and social distancing practices will be observed. A service and interment will be held at Breedlove Cemetery in Tuskeegee, N.C., at 12 noon on Monday, August 24, 2020. The Reverends David Troutman and Daniel Stewart will officiate.
An online register is available at https://www.troutmanfuneralhome.com. Troutman Funeral Home is honored to be serving the Crisp Family. Donations can be made in honor of Delbert to Hospice of Iredell County at https://www.hoic.org or Fallstown Baptist Church at http://fallstownbaptist.org.
Troutman Funeral Home is serving the family.