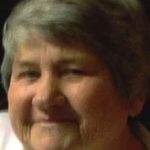 Dorothy "Dot" Lackey Marshall, 87, of Taylorsville, N.C., passed away on Thursday, April 9, 2020, at Valley Nursing Center. Dot was the daughter of the late Bron and Edna Lackey. She was born in Iredell County on Monday, May 9, 1932.
She attended Stony Point Tabernacle. Her favorite thing was corresponding with family and friends through cards. She was a great cook, and was always lending a helping hand to friends and neighbors. She retired from Broyhill Furniture.
In addition to her parents, Dot was preceded in death by her loving husband, Hal Marshall; one son, Timothy Marshall; one grandson, Clark Atchison; seven siblings, Gilbert Lackey, Hilda L. Gryder, Harry Talmadge Lackey, Evelyn L. Pennell, Jeff Lackey, Jackie L. Teague, and Candy L. Bolick.
Dot is survived by, one son, Rev. Mark Marshall (Lori) of Taylorsville; three daughters, Dana M. Atchison (Ellis Charles), of Sikeston, Mo., Gail M. Millsaps (Phil) of Moravian Falls, N.C., and Sally M. Lackey (Tim), of Hiddenite, N.C.; one brother, Bron "June" Lackey Jr. of Stony Point, N.C.; grandchildren, Nichole M. Blanton (Allen), E.C. Atchison (Lisa), Laura A. Thompson (Jeb), Amber R. Treadway (Chad), Autumn R. Davidson (Jeremy), Travis Lackey, Bryce Lackey (Kayla), Carsyn Lackey, Noel M. Davidson, Nathan Marshall (Mandy), Landon Marshall (Sarah), Graham Marshall (Rachel), and Trent Marshall; nineteen great grandchildren, and many nieces, nephews, and friends.
A Private Graveside Service will be conducted at 2 p.m. on Tuesday, April 14, 2020, at Carsons Chapel United Methodist Church Cemetery. The Rev. Mark Marshall will officiate. The body will lie in state Tuesday, April 14, 2020 from 11 a.m. until 1 p.m. at Chapman Funeral Home. The family would like to give thanks to the staff at Alexander County Hospice, Bayada Home Health Care, Valley Nursing Center, and Chapman Funeral Home for their services and great care of our Mother in her time of need.
Memorials may be given to the Alexander County Hospice, 50 Lucy Echerd Lane, Taylorsville, NC 28681 or Carsons Chapel United Methodist Church, 1551 Carson Chapel Road, Taylorsville, NC 28681.
Chapman Funeral Home is serving the family.