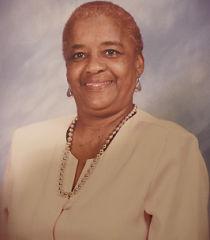 Mrs. Dorothy Mae Lowery Reid, 82, of Washington, D.C., was born in Mecklenburg County, N.C., on December 6, 1937, and was the beloved daughter of the late Napoleon Theadore Lowery Sr. and Alberta Blackwelder Lowery. She peacefully went into God's care, on Saturday, October 31, 2020, at Georgetown University Hospital.
"Mother," as she was called, went to Dunbar High School in Mooresville, N.C., and was a member of Scripture Cathedral in Washington, D.C., for many years until she moved to Charlotte, N.C. Mother was a loving family woman who enjoyed being around family, playing cards and singing gospel songs. She loved the Lord and was at peace when He called her home.
She was preceded in death by her husband, James Reid; a son, George Bradley "Snapper" Lowery; a grandson, Darion T. Lowery; one brother, Douglas Edward Lowery; and four sisters, Virginia Lowery Alexander, Gladys Lowery Smith, Roberta Lowery Portlock and Beryline Lowery Gray.
Left to cherish the memory of her life are three daughters, Johnnie Mae Lowery, Wanda McKinney, and Tammy Lowery (The late Lewis McClanahan), all of Washington, D.C.; two sons, William "Buddy" Lowery (Patricia Blackwell) of Alexandria, Va., and Wade Lowery (Tandra) of Kannapolis, N.C.; 17 grandchildren, 42 great-grandchildren, 4 great-great- grandchildren, two brothers, Napoleon Theadore (Phyllis) Lowery Jr. of Mooresville and Allan (Grace) Lowery of Kannapolis; two sisters, Meryline Lowery (Clyde) Wilson of Greensboro, and Sylvia D. Lowery of Statesville; a host of nieces, nephews, cousins, other relatives and dear friends.
Celebration of Life Services will be conducted Saturday, November 14, 2020, at 11 a.m.at Rutledge and Bigham Funeral Home. Apostle Carl Daniel Lykes Sr. will officiate and Bishop Darius Hopkins will eulogize. Burial will follow in the Belmont Cemetery.
Rutledge and Bigham Funeral Home is serving the family.