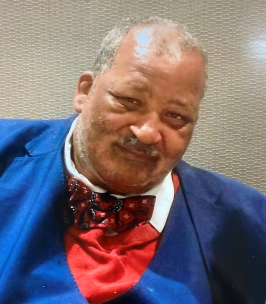 Dr. Thomas Jackson, 74, of 1011 Absher Road, Statesville, N.C., departed this life on Friday, October 30, 2020, following an extended illness. He was born in Iredell County on December 29, 1945, and was the son of the late Dave and Coralee Corry Jackson. He was married to Patricia Dianne Cowan Jackson, who survives. In addition to his parents, he was preceded in death by a son, Roderick Lee Jackson; brothers, Dave Jackson and Walter Jackson; and a sister, Mary Lee Moore.
He was a graduate of Unity High School and Catawba Valley College. He was the pastor of St. Mark Christian Church in Troutman, N.C.
He leaves to cherish the memory of his life his wife, Evangelist Patricia Cowan Jackson of the home; his children, Pastor Thomas (Daquaine) Jackson Jr. and Justin (Crystal) Jackson, both of Hollywood, Fla., Elder Phillip Jackson of Statesville, Patrece (Keith) Hammitt of Bossier City, La., Dana Jackson of Charlotte, N.C., Matthew Jones of Salisbury and Timothy Jefferson of Anaheim, Calif..; grandchildren, Mauriauna Hammitt, Miya Hammitt, Dean Thomas Padgett, Christian Jackson, Julian Jackson, Sakiya Jackson, Dionte Jett, Raven St. Louis, and Daniel Jackson; brothers, ; Nathaniel (Barbara Ann) Jackson and Johnny Matthew "Beauty" (Sherry) Lewis, both of Statesville; one sister, Viola Campbell of Statesville; brothers-in-law, George Cowan, Ricky Cowan and Ronnie Cowan, all of Winston-Salem, and Paul Cowan and Ronnie Cowan, both of California; four sisters-in-law, Brenda Cowan of Winston-Salem, Carolyn (Jim) Baker of California, and Ann Cauthen of Troutman; as well as a host of nieces, nephews, cousins, neighbors, other relatives and friends.
Celebration of Life Services will be conducted Friday, November 6, 2020, at 1 p.m. at Rutledge and Bigham Funeral Home with Bishop James Jackson officiating and Bishop Melvin Hardy eulogizing. Burial will follow in the Belmont Cemetery.
There will be no public visitation. Unfortunately, during the COVID-19 pandemic, Rutledge and Bigham Funeral Home, along with other funeral homes across the country, has been issued a mandate to limit the number of family and/or friends at funeral services. You can only enter the funeral with a funeral pass, which will be given to the family.
General public viewing will be held Thursday, November 5, 2020, from 4 to 7 p.m. and resume Friday Morning, November 6, 2020, from 9 a.m. until the funeral hour.
Visit the Book of Memories for Dr. Jackson at www.rutledgeandbigham.com.
Rutledge and Bigham Funeral Home is serving the Jackson Family.