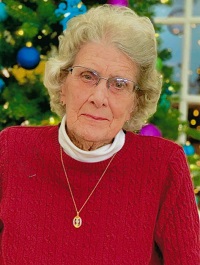 Elaine Hunter Tharpe Feimster, 92, formerly of Hamptonville, N.C., passed away on May 6, 2020, at Brookdale Peachtree Memory Care. She was born in Iredell County on October 30, 1927, to the late Bristol Gilmer Tharpe and Nina Hunter Tharpe.
She was a graduate of Harmony High School and attended Mitchell Community College, Mars Hill and Lenoir-Rhyne. She was married 67 years to Augustas Dent Feimster, who proceeded her in death in August 2014.
Mrs. Feimster taught Health & Physical Education for many years at West Yadkin School, Harmony High School, and North Iredell High School. After retirement, she was a substitute teacher for 15 years. While teaching she also coached basketball, volleyball, and softball teams achieving many conference championships.
She was a lifetime member of Holly Springs Baptist Church, where she served as treasurer for 20 years, taught Sunday School, and played the piano and organ since she was 15 years old. She enjoyed basketball, shopping, and eating with family and friends at the Burger Barn.
Besides her husband, she was proceeded in death by a daughter, Dorcas Elaine Feimster StClair.
Mrs. Feimster is survived by a son, Terry Dent Feimster of Charleston, S.C.; three grandchildren, Pacer Shane StClair of Winston-Salem, and August and Casey Feimster of Charleston, S.C.; brother-in-law and sister-in-law Jim and Gretna Feimster; sister-in-law, Ruth Feimster Welshans; and several loving nieces.
There will be a first visitation on Friday, May 8, 2020, during the hours of 12 to 6 p.m. at Reavis Funeral Home to accommodate the limitations of the COVID 19 requirements. A second visitation will be held from 1 to 2 p.m. with a graveside service to follow at Holly Springs Baptist Church Saturday, May 9, 2020, at 2 p.m. with Dr. Rev. Cliff Gwaltney officiating.
In lieu of flowers, memorials may be made to Holly Springs Cemetery Fund, c/o Dorothy Mayberry, 105 Mayberry Road, Harmony, NC 28634.
The family would like to thank the staff of Brookdale Peachtree Memory Care for the love and compassion they showed her. Also Hospice of Iredell County, Elaine Johnson and Sue Campbell for their love and care of Mrs. Feimster, a special friend Irene York, a special sister-in-law Gretna Feimster, nieces Katrina Hewitt and Debbie Buxton, and all other family and friends for their love and support.
Reavis Funeral Home of Statesville is serving the family.