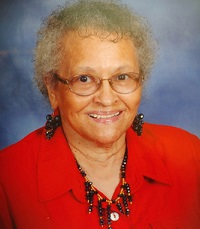 Mrs. Emma Rebecca Moten Feimster, daughter of the late Willie Rosoe and Janie Davidson Moten, was born in Iredell County on November 21, 1927. She departed this life on Saturday, May 16, 2020, at her home following an extended illness.
Emma attended Unity High School and retired from Carolina Mills with over twenty years of service. She devoted her time to her family and church family. She was a dedicated and faithful member of Highland Acres Church of Christ for many decades until her illness; however her faith never waivered. She was a Christian woman and enjoyed baking and canning. She was a great cook and enjoyed working in her flower garden. She loved her family and church family.
She was married to Ivy Dewitt Feimster on December 15, 1946, and they shared 49 wonderful years. To this union, three daughters, Shelby Jean Letman, Sandra Kay Feimster and Annette Lavon Heaggans, were born. She was preceded in death by her loving husband, Ivey Dewitt Feimster, on January 18, 1996; her daughter, Shelby Jean Letman on April 15, 2002, and all of her siblings, Lorene Scott, Dorene Feimster, Lucille Hickman, Pauline Jones and Paul Moten.
She leaves to cherish the memor of her life two daughters, Sandra (Jerry Sharpe) Feimster and Annette (Rufus) Heaggans, both of Statesville; a sister-in-law, Estelle Feimster of New York; her grandchildren, Nikki (Charles) Falls of Canton, Mich., Jason (Patricia Springs) Letman of Charlotte, Nicholas (Shalawn) Feimser of Southfield, Mich., and Jeremy Heaggans of Charlotte; her great grandchildren, Jordan Cotton, Nickloas Feimster, Lamont Howard, Ivianna Feimster, Malya Feimster, Ashton Feimster, Laila Feimster and Summer Falls; a host of nieces, nephews, cousins, other relatives and special friends, Willie and Elizabeth Lundy, Robert and Rebecca Johnson, Patty Templeton, Tommy and Charlene Stinson, Sabrina Thomas, Foy and Elaine Mayberry, Gilbert and Frances Mayberry, Albert and Callie Leach, Janet Fox, and the Highland Acres Church Family.
In tears we saw you sinking, and watched you fade away
Our hearts were almost broken, we wanted you to stay
But when we saw you sleeping, so peacefully and free from pain,
How could we wish you back with us, to suffer that again.
It breaks our hearts to lose you, but you did not go alone
For part of us went with you, the day God called you home.
Celebration of Life Service will be conducted Thursday, May 21, 2020, at 1 p.m. at Highland Acres Church of Christ. Al Simmons will officiate and burial will follow in the Belmont Cemetery.
There will be no public visitation. Unfortunately, with the COVID-19 pandemic, Rutledge and Bigham Funeral Home, along with other funeral homes across the country, has been issued a mandate to limit the number of family and/or friends at funeral services. You can only enter the funeral with a funeral pass, which will be given to the family.
Rutledge & Bigham Funeral Home is serving the family.