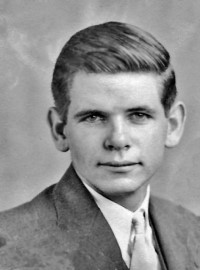 Eugene Hager, 98, departed this life for his heavenly home on December 22, 2020, at Gordon Hospice House in Statesville, N.C., exactly one year and twelve days after the passing of his wife of seventy-eight years, Marjorie.
He was born in April of 1922 to Eugene and Viola "Ola" Haire Hager in Cool Springs, N.C. His family moved to East Berlin, Pa., when he was a child, and Gene helped his parents and siblings with running a farm there. He began working with horses and plow at age 12 and attended a one-room school house. He and his siblings had many fun adventures in Pennsylvania.
The family moved back to this area and owned a farm in the Scotts community. Gene attended Scotts High School and was on the baseball and basketball teams. He was also a bus driver. In his senior year, he asked the most unpopular girl to the prom so she wouldn't be without a date.
While walking to the barber shop at Stony Point, he met his future wife, Marjorie Hendren, and they were married in 1941. They have two children, Bobby (Judy) and Sherri, who has been his caregiver.
Gene became the Dairy Equipment Manager at the former Farmers Cooperative and Exchange in Statesville, and enjoyed traveling over the Carolinas, Tennessee and Virginia, and helping farmers.
After the FCX went out of business, he continued this work on his own until he began working for Walmart as an assembler. He was the oldest employee and his work ethic drew attention. He was the subject of a newspaper article about his twenty-five years with the company. He was still working full time in his early nineties. In his spare time, he enjoyed moving the lawn, playing the organ, watching Atlanta Braves baseball and reading cowboy fiction.
For many years Gene was an elder at New Amity ARP Church in Statesville. He was the last surviving member of his family, as siblings Claude, Vance, Ruby, Dorothy, Blanche, Phipps and Jean are deceased.
We can truly say that Gene has fought the good fight and run his race to the glory of the Lord. We know that we will see him again in a better place and time, and he will still be "that handsome boy with the blue eyes."
Bunch-Johnson Funeral Home is serving the family. A memorial service will be held at a later date due to the current health situation.