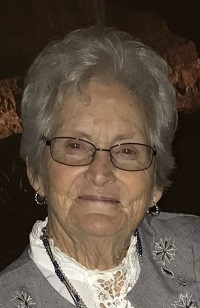 Evelyn Boger Seamon, 89, of Mocksville, N.C., passed away Monday, May 25, 2020, at her residence.
Born in Davie County on May 12, 1931, she was the daughter of the late George Malcus Boger and Amanda Jane Dunn Boger.
In addition to her parents, Evelyn was preceded in death by two brothers, five sisters, and her loving husband of 47 years, J.C. Seamon, who passed away January 21, 1997.
She worked many years as a seamstress at Mocksville Manufacturing and B & F Manufacturing. Evelyn was a member of Society Baptist Church where she sang in the church choir, volunteered with the Quilt Ministry and was a member of the Young at Heart Senior Group. For Mother's Day 2020, she was the oldest living mother of the church family.
She was a wonderful cook and enjoyed preparing meals for her family. She also enjoyed working in her yard and was a long-time serving member of the Ladies Auxiliary of County Line Fire Department.
Those left to cherish her memory are her daughter, Priscilla Dwiggins of Mocksville; her son and daughter-in-law, Jerry (Jane) Seamon of Mocksville; one sister, Sarah Jones; five grandchildren, C.J. (Katrina) Dwiggins, Jill (Jeremy) Whitaker, Janna Winstead, Johnny Wilson and Donna (Brian) Koontz. She is also survived by nine great-grandchildren, Jayce, Julie and Jaelyn Whitaker; Jacsyn and Jace Winstead; Brandon (Chelsea) Koontz and Katie Koontz; and Evelyn and Lucille Dwiggins; and two great-great grandchildren, Chloe and Bryson Koontz.
Mrs. Seamon will lie-in-state Wednesday, May 27, 2020, from 3 to 8 p.m. at Society Baptist Church.
The funeral service will be held Thursday, May 28, 2020, at 11 a.m. at the church with Rev. Jeff Holder and Rev. Donnie Chapman officiating. Burial will follow in the church cemetery.
Memorial donations may be made to Society Baptist Church Building Fund, 879 Garden Valley Road, Statesville, NC 28625 or to The Gideon's International, P.O. Box 148, Statesville, NC 28687.
The family will assemble at the home of Jerry and Jane Seamon.
Online condolences may be left at www.bunchjohnsonfuneralhome.com.
Bunch-Johnson Funeral Home is honored to be serving the Seamon family.