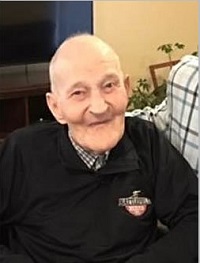 Forrest Combs Sr., 96, of Statesville, N.C., passed away on Monday, March 16, 2020. Dad was born Tuesday, September 11, 1923, in Iredell County.
He retired from JC Steele & Sons after over 48 years of service. He served in the Marine Corps during World War ll in the South Pacific.
Dad was preceded in death by his wife, Flossie Millsaps Combs.
He is survived by his daughter, Marilyn Baker (Dennis/Dink); his son, Forrest Combs Jr. (Sherry); four grandchildren; and nine great grandchildren.
There are no formal arrangements at this time.
Chapman Funeral Home is honored to be assisting the Family of Forrest Combs Sr.