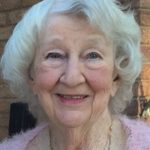 Frances E. Droste, 88, of Mooresville, N.C., passed away on Wednesday, July 15, 2020, surrounded by her loving family.
She was born on February 9, 1932, in New York, N.Y., to the late Charles and Mary Barrisford. Frances grew up in New York, and lived many years in West Nyack and had worked for Chromalloy. After marrying George, they moved from New York to Florida before settling in Mooresville, where they have been for the last 15 years.
While raising her five children and working a full time job, Mrs. Droste put herself through weekend college and received a degree as a paralegal. She loved her family and always remembered them on their birthdays. She loved to cook and garden. In her younger years, Frances and George enjoyed refurbishing homes. They both could look at a fixer-upper and see its potential; they worked hand-in-hand and were always a team. Frances and George enjoyed traveling but their biggest joys were seeing and spending time with family. In her later years, Frances was legally blind and deaf but this did not stop her from cooking wonderful meals, learning to use the computer, gardening, and just recently using a cell phone and ear buds to speak with family. As new technology became available, Frances used it to enhance her life and keep her family close.
She is survived by her husband of 36 years, George Droste; brother, William Barrisford and wife Rochelle; children, Anne Savage (husband Robert Savage, predeceased), Frank Droste and wife Sandra, Michael Oliva and wife Debbie, Rosemarie Dudzinski, George Droste and wife Pat, Christine Tucker and husband Greg, Kim Dutkoski and husband Michael, and Christopher Oliva; grandchildren, Joseph Dudzinski, Michael Joseph Oliva, Ernie Franken, Tim Franken, Jeremy Dutkoski and wife Morgan, Kaitlin Oliva, Robert Savage, Mary Lewis and husband Sean, Sandra Franken, Catherine Savage, Joseph Oliva, Amanda Oliva, Sara Franken, Paul Savage, Dana Oliva, John Dutkoski, Matthew Oliva, James Droste, Nina Oliva, Anthony Oliva, Randal Tucker; great-grandchildren, Nicholas Dudzinski, Madelin Scott Johansen, Logan Lewis, Callie Lewis; nephew, Glen Barrisford and family; and niece, Kelly Lepore and family.
A Memorial service will be held at a later date.
Cavin-Cook Funeral Home & Crematory, Mooresville, is serving the Droste family. Condolences, photos, or memories may be made to the family at www.cavin-cook.com.