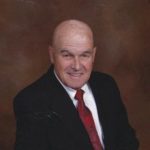 Gary Donald Rutten, 77, passed away Sunday, January 12, 2020, at his home in Statesville, N.C., with his family by his side. Born in Carroll, Iowa, on September 29, 1942, he was a son of the late Henry Rutten and Varina Ocken Rutten.
Since grade school, Gary's goal was to perform on Broadway and he sang at every opportunity, even while driving the tractor on his family's farm. After graduating high school, Gary moved to Minneapolis, Minn., where his baritone voice started gaining attention. After 14 months of voice training, he set his sights on Broadway and moved to New York City to pursue his dream of becoming a singer. There he studied with several accomplished vocalists and was on a trajectory to earn a part in a Broadway show in as little as eight months.
Gary's pursuits were temporarily cut short as Uncle Sam came calling and he was drafted into the Army. He initially served as an MP before auditioning and gaining a part in The Seventh Army Soldiers Chorus. He would go on to perform over 200 concerts to U.S. Calvary units all throughout Europe to maintain high troop morale.
After returning home, Gary continued performing and composed a record to aid in the fundraising for handicapped children. His family values were always a priority and his career eventually lead him to North Carolina. He was a member of St. Philip The Apostle Catholic Church, the Knights of Columbus, and the Statesville Elks Lodge.
Gary enjoyed spending time with family and friends and could often be found cruising around Lake Norman on his boat or performing for local audiences. Above all, he was a true family man and we are very proud of the legacy he will leave behind.
He was preceded in death by a son, Tim Rutten.
Survivors include his wife, the former Mary Lou Siepker; sons, Todd Rutten (Teresa) and Troy Rutten (Diana Arena); a daughter, Brandy Rutten Lackey (Chad); daughter-in-law, Dawn Rutten; and brothers, Ken Rutten (Sue) and Russ Rutten (Bev); and sisters, Bev Leiting (Larry), Muriel Arnold (Dave), Marsha Tiefenthaler (Merlin), and Patty Rutten. Also surviving are his grandchildren, Dustin, Tyler, Alyssa, Tanner, Ryan, Caitlin, Rome, Jake and Maddox.
A funeral mass will be conducted at 11 a.m. on Friday, January 17, 2020, at St. Philip The Apostle Catholic Church with Father Thomas Kessler officiating. The family will receive friends Thursday evening at Nicholson Funeral Home from 6 to 8 p.m.
Fond memories and expressions of sympathy may be shared at www.nicholsonfunerals.com.
Memorials may be given in lieu of flowers to, St. Philip The Apostle Catholic Church, 525 Camden Drive, Statesville, NC 28677 or to Hospice & Palliative Care of Iredell County, 2347 Simonton Road, Statesville, NC 28625.
Nicholson Funeral Home is entrusted with the arrangements.