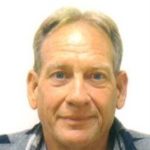 Gary Wane Barbour, 64, of Mooresville, N.C., went home to be with the Lord on Tuesday, May 19, 2020. He was born on December 29, 1955 in Roanoke, Va.
He was retired from the transportation industry, which he was a part of since 1979.
Gary loved boating and camping. He was happy just to be outdoors working in the yard, playing with his dogs or working in his garden. Gary was a kind and loving son, husband, dad and Papaw.
He is survived by his mother, Evelyn S. Barbour; wife, Patricia Barbour; daughter, Jessica Barbour; grandsons, Dakota Z. Hood and Vincent C. Robinson, all of Mooresville; mother-in-law, Joyce T. Baldwin; brother-in-law, Billy Baldwin and wife Lora of South Carolina.
A memorial service will be held at 2 p.m. on Friday, May 22, 2020 at West Corinth Baptist Church in Mooresville with Rev. Robert Suttles officiating.
In lieu of flowers, memorials may be made to Duke Children's Hospital, Durham, NC 27710.
Cavin-Cook Funeral Home & Crematory, Mooresville, is serving the Barbour family. Condolences may be made to the family at www.cavin-cook.com.