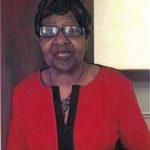 Georgia Ann White Turner, 77, of Statesville, N.C., was born in Iredell County on April 29, 1942, and was the daughter of the late Lex White and Annie Belle Redmon White. She departed this life on Friday, March 20, 2020, at Accordius Heath Care following an extended illness.
She attended Iredell County Schools and was a long-time member of Chestnut Grove Baptist Church. She was united in marriage to Harry "Pete" Turner, who preceded her in death. In addition to her husband and parents, she was also preceded in death by a brother, Melvin White.
She leaves to cherish the memory of her life her children, Robert (Maria) White of Statesville, Josie (Frank) Moore of Troutman, and Raymond L. Matthews of Mocksville; her stepchildren, Harry "Bo" Turner Jr. and Keith Turner, both of Statesville; her grandchildren, TaMikka (Connell) Lewis of Killeen, Texas, TaNara Matthews, Tuyana Matthews of Statesville, and Kiyana Kirby of Winston-Salem; her brothers, Roy (Cheryl) White of Harmony, Reid (Shelvie) White, Ray White, and Lonnie (Linda) White, all of Statesville; her sisters, Lena McClelland, Grace (Johnny) Turner, Sadie King, and Sylvia Wilson, all of Statesville, and Sandra Campbell of Harmony; an aunt, Linda Boyce; uncles, Harrison (Kaye) Gillespie, Ramson Gillespie, Jerry (Cynthia) Gillespie, and Norman (Annie) Gillespie; brother-in-law, James L. (Lois) Turner; and a host of great grandchildren, great-great grandchildren, cousins, nieces, nephews, special friends Thalbert Summers and Jackie Click; and the Chestnut Grove Baptist Church Family; other relatives and friends.
Celebration of Life Services were conducted on Thursday, March 19, 2020, at Chestnut Grove Baptist Church.
Rutledge & Bigham Funeral Home is serving the family.