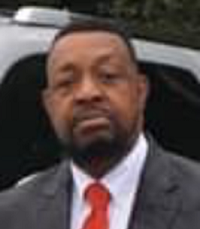 Mr. Glen Lescle Moten, 59, of 1910 Beauty Street, Statesville, N.C., passed away on Monday, August 10, 2020. He was born in Statesville on November 26, 1960, and was the son of the late Charlie Author Moten and Gazelle Hallmon Moten. He was married to Kimberly Gibbs Moten, who survives.
He graduated from Statesville High School in 1978, and retired from J. C. Penny. He started to drive trucks and was so happy and proud of that. Back in the day, he was a DJ, and his name was Moto. In addition to his parents, he was preceded in death by his beloved sisters, Linda Renee Moten and Debbie Moten Pruit; his brother, Charles Moten; a brother-in-law, Franklin Bruner Sr.; and his father-in-law, Robert L. Gibbs.
He leaves to cherish the memory of his life his beloved wife, Kimberly Gibbs Moten of the home; his children, Ketra Gibbs (John) Gore, Glenn Moten Jr., Kaelan Moten (Antonio) McDonald, Angel Moten and Angelo Moten; his grandchildren, Jaylen Gore, Aliyah Gibbs, Trevyn Murdock, Aluyna McDonald, Kaluyda McDonald, Antonio McDonald, Juydon Richardson, Yah'riha Moten, and Yahshua Moten; his sister, Mary Lou Moten, Betty Moten and Caroline Moten Clarke; his mother-in-law, Kathleen Gibbs; and a host of nieces, nephews, cousins, other relatives, co-workers and friends.
Funeral services are incomplete at this time. Rutledge and Bigham is serving the Moten family.