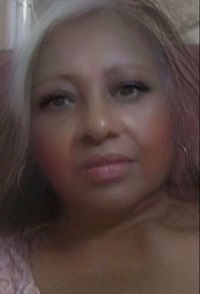 Ms. Gwendolyn White, 68, was born in Iredell County on February 27, 1952, and was the daughter of the late Luther White and Irene Harris White, formerly of Elberton Ga. She peacefully entered into eternal rest on Tuesday May 19, 2020, at Gordon Hospice House in Statesville, N.C., following an extended illness.
Ms. White was educated at Statesville Senior High School. She graduated from Mitchell Community College with a nursing degree. She was employed by Bellsouth, formerly known as Southern Bell, and Hunt Manufacturing Co., from where she retired.
She was a long-time member of First Baptist Church. She was a very caring, giving, and loving person. She was also a happy person and a joy to be around. She will be truly missed by those who knew her and who she spent quality time with.
She leaves to cherish the memory of her life one son, Kevin White of Statesville; among with the love of her life, Aquilla B. Cain Sr. of Statesville; and various associates and distant relatives.
Ms. White will lay in state on Tuesday, May 26, 2020 at Bunch-Johnson Funeral home from 10 a.m. until 5 p.m at 705 Davie Avenue, Statesville, NC 28677.
A celebration of life service will be conducted Wednesday, May 27, 2020, at 1 p.m. at Bunch-Johnson Funeral Home, Statesville. Burial will follow at Belmont Cemetery in Statesville.
Bunch-Johnson Funeral Home is serving the family.