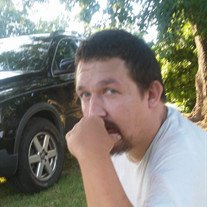 Harold "Trey" Dean Stewart III, 28, of Statesville, N.C., passed away on Tuesday, January 7, 2020. Born February 14, 1991, in Mooresville, he was the son of Harold Dean Stewart Jr. and Deborah Kissee (Mike).
Trey loved his family, being involved in his children's lives, enjoyed fishing and the Carolina Panthers. He was very patriotic, always having a kind and giving heart to help anyone he could. Trey was a simple man.
In addition to his parents, he is survived by his wife, Katherine Haynes Stewart; children, Bentley and Hayley Stewart; sisters, Jessica Stewart and Christina Kissee; nieces and nephews, Saniah, Joslyn, Giovanni and Sophia; mother-in-law, Nancy Williams; aunts, Cindy Krause, Teresa Williams and Mary Stewart; and cousins, Frankie and John.
Funeral services will be held at 11 a.m. on Saturday, January 11, 2020, at the Cavin-Cook Funeral Home Chapel, Mooresville, with Rev. Frank Smith officiating. The family will receive friends from 6 to 8 p.m. on Friday, January 10, 2020, at Cavin-Cook Funeral Home, Mooresville.
Cavin-Cook Funeral Home, Mooresville, is serving the Stewart family. Condolences may be made to the Stewart family at www.cavin-cook.com.