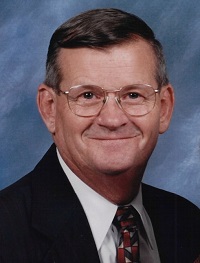 J.D. Harris, 83, of Statesville, N.C., passed away peacefully, Saturday, February 22, 2020, at the Gordon Hospice House, surrounded by his loving family.
Born August 21, 1936, in Statesville, he was the son of the late Paul R. Harris Sr. and Carrie Daniels Harris. He was a 1955 graduate of Statesville Senior High School, where he played all sports, including football, baseball and basketball. He was awarded at graduation the Perdue Athletic Award for the outstanding male athlete for that school year.
He joined the Statesville Fire Department and retired as a captain following 30 years of service. He was instrumental in the founding of the Fire Department Scuba Diving program for search and rescue. He was also instrumental in the restoration of older fire department equipment and helped start the Iredell County Rescue Squad. J.D. served as the historian for the fire department and was a member of the Retired Fireman's Association. He enjoyed attending the meetings and the food fellowship.
J.D. was a member of Western Avenue Baptist Church, was a former deacon and was involved with the Bus Ministry for a number of years. He was also a Lay Minister and was involved with Prison Ministry. In 1985, he was honored by the Statesville Record & Landmark with the First Pride Award for Statesville.
For many years, he worked with Marvin Raymer and later with Joe Troutman at Nicholson Funeral Home as a funeral assistant. During that time, he also worked at Iredell Memorial Hospital to help transport patients from their rooms to the operating room and back. Perhaps he was best known for his involvement with athletics. A Statesville Greyhound through and through, he coached Midget Football for many years with elementary students. Later he joined the Greyhounds staff as a quarterback coach and trainer. He was also a referee in basketball, football and baseball.
For all his involvement at the High School, he became known as "Mr. Touchdown USA." When he was no longer able to participate in sports, he became and stayed a huge Greyhound supporter. He was also known for his skill in taxidermy.
In addition to his parents, he was preceded in death by four sisters, Dorothy Harmon, Helen Mayfield, Ruth Ostwalt and Betty Jo Harris; one brother, Paul R. Harris Jr.; and a grandson, Andrew Gaston Rupard in 2019.
He is survived by his wife, Marie Speaks Johnson Harris, whom he married in 1976; a son, Scotty Harris (Danna); a daughter, Julie H. Rupard (Terry), all of Harmony; a step-son, Robbie Johnson of Statesville; and a step-daughter, April Hemric (Phil) of Elkin, N.C.; seven grandchildren, Chris Harris (Emily), Casey Harris (Chelsea), Jennifer Steele (Joe), Ashley Privette (Micah), Matthew Rupard (Nichole), Philip Hemric and Brandon Hemric; two great grandchildren, Natalynn Privette and Finley Privette; one brother, Melvin Harris (Shirley); along with numerous nieces, nephews and cousins, also survive.
A service to celebrate the life of J.D. will be conducted at 2 p.m. on Friday, February 28, 2020, at Western Avenue Baptist Church with Rev. Dr. Jeff Spry, Rev. David Childress and Retired Fireman's Association Chaplain Rev. Ralph Lepley officiating. Burial with Fireman honors will follow at Oakwood Cemetery. The family will visit with friends on Thursday from 6 to 8 p.m. in the Western Avenue Baptist Church Fellowship Hall. Fireman honor guards will assist during the visitation hours. The family will gather at other times at the Harris residence. Active pallbearers will be members of the Statesville Firefighters Honor Guard. Honorary pallbearers will be retired and active fireman in uniform. All other first responders are invited to wear their uniforms.
Memorials may be made to the Statesville Professional Fire Fighters, P.O. Box 453, Statesville, NC 28687 or to the Gordon Hospice House, 2347 Simonton Road, Statesville, NC 28625.
Online condolences may be made to the family at www.troutmanfuneralhome.com
Troutman Funeral Home is serving the Harris family.