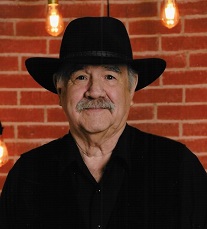 James Carroll Blanton, 77, of Statesville, N.C., passed away on Saturday, February 22, 2020, at his residence under the care of Hospice.
Born December 29, 1942 in Modesto, Calif., he was the son of the late Leslie "Vernon" Blanton and Edith Brettlinger Summers. James was a loving husband, father, grandfather and great-grandfather. He loved to fish, watch boxing, and play cards, especially Texas Holdem, and Dominos (42). Was a veteran of the National Guard Army Reserves for eight years, worked in the redwood timber mills, was a owner of his own small grocery store and later became a contract driver for Mayflower before retiring from McCollisters United Van Lines. James was very much admired and was a strong, hard-working man that his family members are all very proud of.
In addition to his parents, he was preceded in death by five brothers, Vernon "Sonny" Blanton, Kenneth Blanton and three as infants; and two sisters, Wilma Pauley and Betty Lou McKinley.
James is survived by his wife, Frances Wilson Blanton; daughter, Rochelle Carol Blanton Kosak and husband Steve of Statesville, N.C.; a son, Greg Blanton of Modesto, Calif.; daughter, Cindy Blanton Dunn and husband Taylor of Bath, Maine; a brother, Charles Lambert of Modesto Calif.; a sister, Sandra Lambert Rogers of Rancho Cordova, Calif.; four grandchildren, Alisha, Nathaniel, Stephanie and Zachery Laverty of Statesville, N.C.; and three great grandchildren; along with a step-daughter of Frances, Christi Faulk and husband Rick and their children, Sarrah, Jessie and Racheal of Turlock, Calif., and a number of nieces and nephews.
A graveside service will be held Tuesday, February 25, 2020, at 11 a.m. in Oakwood Cemetery of Statesville.
Troutman Funeral Home is serving the family. Online condolences may be sent to the family at www.troutmanfuneralhome.com.