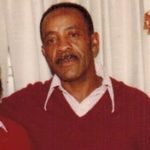 Deacon James Dewitt Dalton, 85, son of the late David Lynn Dalton Sr. and Louise Holmes Dalton, was born in Iredell County on October 7, 1934. He entered into eternal rest on Wednesday, February 12, 2020, following an extended illness.
He was a graduate of Unity High School, entered the United States Army, was honorably discharged and also served in the reserves. He was a supervisor with the JC Penny Warehouse prior to his retirement. He was a faithful and dedicated member of Mt. Nebo Baptist Church, where he served as a Deacon, Trustee, Sunday School Superintendent, a Missionary and at one time served as an Usher. He was also a member of the Harmony Masonic Lodge and a member of the North Iredell American Legion Post #113.
In addition to his parents, he was preceded in death by his brothers, Arnold Ray Dalton, David Dalton Jr. and Luther Dalton; and a sister, Winnie Lou (William) Parks. He was united in marriage to Edna Beatrice Redmon Dalton.
He leaves to cherish the memory of his life his wife, Beatrice R. Dalton of the home; one daughter, Robin Dalton of Statesville; two grandchildren, Cinetta (Altoe) Stevenson of Charlotte and Candace Stevenson of Concord; seven great grandchildren, Trae "Jon" Stevenson, Tavaris Bailey, Phillip Boulware, Thian Stevenson, Tiyanna Floyd, Titan Turner, and Niyeem Allan; two brothers, Alvis (Ruby) Dalton of Dayton, Ohio, and Robert (Tina) Dalton of Harmony; sisters-in-law, Sandra Houston, Joyce Dalton and Annie Redmond, all of Harmony, Mary Lois Steele and Laurie Redmond, both of Statesville, and Mary Dalton of Winston-Salem; a brother-in-law, Gilbert (Ruth) Redmond; and a host of aunts, uncles, nieces, nephews, cousins, other relatives, church family, neighbors and dear friends.
ALL IS WELL… SAFELY REST!!
A gentle soul has washed away,
Who was strong, enlightened and brave,
Looking down from up above
Showering us with his love.
The stars shine brighter, the moon does too!
Now that Heaven has gained you
In our hearts you'll always be
Love and kindness personified was my daddy
Now it's the son of Heaven you will play
To us each and every day
Lovingly submitted by your daughter,
Robin
Celebration of Life Services will be conducted Monday, February 17, 2020, at Mt. Nebo Baptist Church. Rev. Sylvester Reed is Pastor, Rev. Norman Dudley will officiate and Rev. Tyrone Redmon will eulogize. Burial will follow in the Church Cemetery with Military Rites. Mr. Dalton will remain at Rutledge and Bigham Funeral Home until taken to the church to lie in state at 12:30 p.m.
Visit the Book of Memories for Mr. Dalton at www.rutledgeandbigham.com.
Rutledge and Bigham Funeral Home is serving the family of Mr. James D. Dalton.