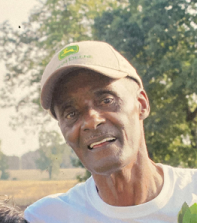 Mr. James "Jim" Whitfield Nichols, son of the late Fred Nichols Sr. and Ellen Hall Nichols, was born in Iredell County, May 10, 1947. He departed from this earth on August 16, 2020, following an extended illness.
He attended Unity High School and later joined the Army in September 1970. He served his country during the Vietnam War and was honorably discharged from the Army as a Corporal/Specialist 4 in 1974.
Mr. Nichols was a carpenter, farmer and mechanic, "a Jim of all Trades." He started his career in landscaping/heavy equipment, with Jerry Turner when he left the military. Later he spent many years working with Leon Barker in the trailer industry and he remained close friends with both Jerry Turner and Leon Barker for life. Jim's true love was his family, and he spent a lot of his time being a role model for the men in the family as well as his three daughters. Jim never met a stranger. His kindness and contagious smile was his gift to all that knew him.
In addition to his parents, he was preceded in death by his former wife, Claudia Nichols Redmon; his brothers, Fred Nichols Jr., Melvin Nichols, Terry Nichols, and Stanley Nichols; and his grandson, Stephen Benfield.
He leaves to cherish the memory of his life his fiancée, Nelda Chambers of the home; his children, Tameka (Timothy) Benfield of Union Grove, N.C., LaJanda Bell of Harmony, N.C. and Jenifer Nichols (Richard Freeman) of Statesville, N.C.; his siblings, JoAnn Studevent of Harmony, N.C., Bob Nichols (Mary) of Statesville, N.C., and Silva Lewis of Harmony, N.C.; his grandchildren, Tyana Redmon and Cameron Tucker, both of Union Grove, N.C., Brittany Bell, Kennedy Bell, Jaden Bell, and Shelton Bell Jr., all of Harmony, N.C., Antonio Steele and Legacy Freeman, both of Statesville, N.C.; his great grandsons, Josiah Sepaniak of Union Grove, N.C. and Kháza Parsons of Harmony, N.C.; his godsons, Todd (Rosa) Steele of Harmony, N.C., Travis (Janine) Lewis of Lewisville, N.C., Ronnie (Jenifer Small) Eckles of Troutman, N.C., Keyshawn Hester of Statesville, N.C., and Dennis (April) Eckles of Albany Ga.; his goddaughters; JoAnna Nichols (Darin) Sims of Hephzibah, Ga., and Jonetta (Tommy) Sadler of New Bern, N.C.; his friend, Patricia Eckles of Harmony, N.C., and a host of other nieces, nephews and extended family.
Celebration of Life Services will be conducted Sunday, August 23, 2020, at 1 p.m. at Rutledge and Bigham Funeral Home. Burial will follow on Monday morning, August 24, 2020 at 10 a.m. at The National Cemetery in Salisbury with Military Rites.
General public viewing be will held on Saturday, August 22, 2020, from 3 until 7 p.m. and will resume on Sunday morning, August 23, 2020, from 9 a.m. until the funeral hour.
There will be no public visitation. Unfortunately, with the COVID-19 pandemic, Rutledge and Bigham Funeral Home, along with other funeral homes across the country, has been issued a mandate to limit the number of family and/or friends at funeral services. You can only enter the funeral with a funeral pass, which will be given to the family.
Visit the Book of Memories for Mr. Nichols at www.rutledgeandbigham.com.
Rutledge and Bigham Funeral Home is serving the Nichols Family.