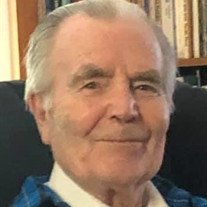 James Maurice Lewis, 89, of Statesville, N.C., passed away on Monday, November 9, 2020.
He was born on March 26, 1931, in Clovis, N.M., to the late William and Zelma Neely Lewis.
He grew up in Arizona and worked on horse ranches and cattle drives. He served in Korea during the Korean Conflict 1951-1953 as a Conscientives Objector – Med Tech. He was a member of Statesville Seventh Day Adventist Church. He married the love of his life Mildred Reed on January 10, 1954.
In addition to his parents, he was preceded in death by his sister, Namotia Gundelauch; grandson, Scott Rogers; and great grandson, Ethan Wayne.
He is survived by his loving wife, Mildred Reed Lewis; daughters, Fredda Rogers (Jerry), Janis Woodard (Terry); grandchildren, Andrea Deegan Smith (Jeremy), Melanie Nesbitt (Ryan), Jesse Woodard (Tiffany), Shelly Rogers, Roxann Lovette (Corey), and Amanda Rogers; great grandchildren, Courtney Deegan, Zoey Smith, Zelma Woodard, Eliza Woodard, Stacy Nesbitt, Brooke Nesbitt, Stephen Tamez, Sarah Kryfko, Samantha Lovette, Ryan Lovette, Salem Rogers, and Anna Rose Rogers; four great-great grandchildren.
A graveside service will be held at 2 p.m. on Tuesday, November 10, 2020, at Pine Grove Cemetery, Statesville, N.C.
In lieu of flowers, memorials may be sent to Statesville Seventh-Day Adventist Church, 2429 E. Broad Street, Statesville, NC 28625.
Cavin-Cook Funeral Home, Mooresville, is serving the Lewis family. Condolences may be made to the family at www.cavin-cook.com.