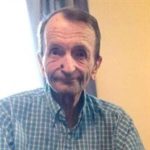 JB Bingman, 68, of Stony Point, N.C., passed away Thursday, August 20, 2020, at his residence following an extended illness. He was born Saturday, June 21, 1952, in Surry County, N.C., to the late Sherman Bingman and Myrtle Bowles Bingman.
JB is survived by his wife of 44 years, Beulah Wilcox Bingman of the home; three sons, Jason (Kenda) Bingman, Joesph Bingman, and James Bingman and wife Samantha; six daughters, Tammy Bingman, Billie Ramseur and husband Robert Jr., Misty Goodin handusband Jeremy, Jennifer Bingman and husband Charles Graham, Candie Bingman and fiancé Michael Tarter, and Kellie Mooe and husband Joshoua Sr., all of Statesville; two brothers, Bobby and Bruce Bingman; two sisters, Opal Sneed and Patricia Sharpe; fifteen grandchildren, Brianna, Nathan, Chasity, Tre' Katelyn, Carson, Nicole, Nicholas, Keira, Adam, Isabell, Thomas, Joshoua Jr., Matthew, and Lydia; and one great grandchild.
A Memorial Service will be conducted at a later date.
Chapman Funeral Home is serving the family.